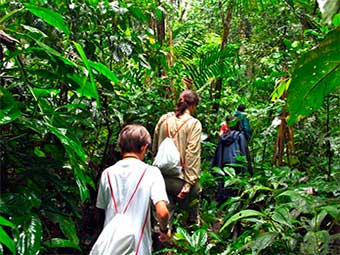 Though any kind of holiday is a fantastic learning experience for a child, the Amazon, with its unique animals, plants and environment is the ultimate eye-opener for younger travellers.
Taking your kids with you on a family trip to the jungle is therefore a great opportunity not only to spend some time together but also to introduce your children to new cultures, creatures and horizons.
Will the boat be suitable for children?
As there is a range of comfort levels available on Amazon River trips, it shouldn't be too difficult to find one that is suitable for kids, but always check with your travel agent before you book.
Can kids join excursions into the forest?
As most parents know, children are incredibly inquisitive and will inevitably want to get off of the boat and closer to the jungle. Most Amazon River trips will offer daily excursions into the jungle so that you and your kids can discover everything that it has to offer.
Is medical help available?
As parts of the Amazon are fairly remote, it's important to find out what medical assistance is available for your family just in case.
Do you need vaccinations before the trip?
Though the chances of catching a disease or becoming ill on Amazon River trips is very low, it's important to check exactly which vaccinations and inoculations your family needs before travelling to the area.
Will your children be able to learn about the jungle?
If your main reason for travelling to the Amazon is to allow your kids to learn all about the jungle, ask your travel agent whether experts will be on hand to help your kids understand the forest.
Are cabins big enough for a family?
If you have young children, you'll probably want to stay together in one cabin so ask your travel agent to book a boat with suitably designed accommodation.
How can you make the most of your family trip to South America?
If you're travelling all the way to South America you'll probably want to make the most of your family's time in the region.
Ask your travel agent whether they can arrange any custom trips to nearby attractions like the Galapagos Islands or Machu Picchu so that you and your children can experience as much as possible during your time on the continent.
What animals can you expect to see during your trip?
By finding out which animals will be most abundant during your time in the jungle, you can start educating your kids about them and their environment before you leave.
Is the Amazon safe for children?
Though the jungle needs to be treated with respect, with the right advice and guidance it is perfectly safe for children and families.
Are all transfers pre-arranged?
Though the details will depend on which of the Amazon River trips you've booked, most companies will arrange airport pick up and transfers so all you and your family need to do is sit back, relax and enjoy your holiday.