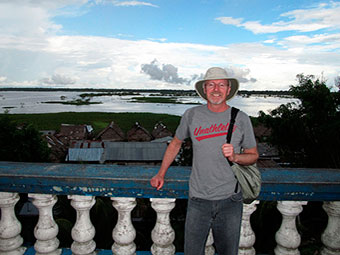 As the gateway to the Peruvian Amazon, Iquitos sees the departure and arrival of almost all cruises that explore the jungle's waterways. Though many of the travellers that come to the city are keen to start their Amazon cruises, taking a few days to explore this unique jungle metropolis can really add to your trip.
The largest city in the world that is unreachable by road, Iquitos is unlike anywhere else. Its motorbike-filled streets vibrating with noise and its stunning position in the middle of the jungle evident on every horizon.
The RiverfrontIf you're planning a trip to the Peruvian Amazon soon and are thinking about spending a few days in this unique spot, here are a few of the unmissable attractions Iquitos has to offer.
The climate
Just like the other countries in the Amazon, Peru has a hot and humid climate, so a few days in Iquitos is a great way to acclimatise to your new surroundings. As the hot weather can be very tiring, it's a good idea to take regular breaks from sightseeing and make sure you drink plenty of water.
The riverfront
Though the exact location of the riverfront changes from the low to the high water season, the area around the riverbank is always full of stylish bars and traditional eateries. Popular with locals and visitors alike, the riverfront is a great place for an afternoon stroll and a spot of people watching.
Belén
In the southeast of the city you'll find the floating shantytown of Belén, an incredible mix of barges, rafts and huts built on floating platforms. The best time to visit Belén is at around 7am when people from the nearby jungle villages come to sell their products to local businessmen.
Play a round of golf
If you're a golf enthusiast, the Amazon Peru has one unique attraction just for you; a gold course complPlay around of golfetely surrounded by the rainforest. Made up of nine holes, the course makes a great afternoon activity. Just don't go fishing around in the streams or rivers for lost balls – some of them are infested with piranha.
If you want to get a real feel for what life is like in the Amazon Peru, a few days in Iquitos is the perfect way to do it. Unique, chaotic and exciting, an extended trip to this jungle city will make your trip to the rainforest even more memorable.