Within the borders of the vast Amazon Jungle there are few creatures as strange or as fascinating as the manatee. The source of countless indigenous myths and legends, these ungainly, fresh water mammals are some of the most interesting residents of the rainforest.
Manatee Rescue CentreUnfortunately, these gentle giants are often hunted for their blubber, meat, skin and other materials, causing the population to decline and the species to be classed as 'vulnerable'.
To help combat this, the Manatee Rescue Centre near Iquitos Peru is working hard to rescue young calves, rear them to adulthood and then release them back into the wild. A trip to the centre makes a great day out during your stay in Iquitos, with the chance to get close to these impressive animals something you'll never forget.
The Amazonian manatee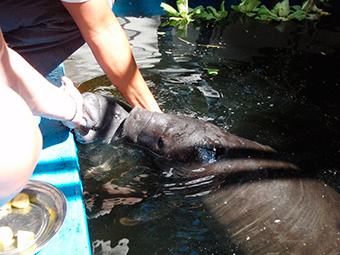 The only fresh water manatee in the world, the Amazonian manatee is found in the waters surrounding Iquitos Peru and throughout the Amazon basin.
Weighing up to 540kg and measuring up to three metres, these colossal creatures normally lie concealed beneath the water's surface, making them difficult to spot during an Amazon cruise.
Despite their vast size, Amazonian Manatees are vegetarian, surviving on a diet of hyacinth and water lettuce. So voracious is their appetite that most Amazonian manatees consume around 8% of their body weight every day.
Visiting the Manatee Rescue Centre
Though there are manatees living in the wild in the area close to Iquitos Peru, to guarantee a close-up encounter with these illusive creatures you're better off heading to the Manatee Rescue Centre on the outskirts of the city.
Open to the public most days until 3pm, the centre is easy to reach by public transport or taxi. Visitors can pet the manatees and even buy some food to feed these huge beasts by hand.
Market in BelenIquitos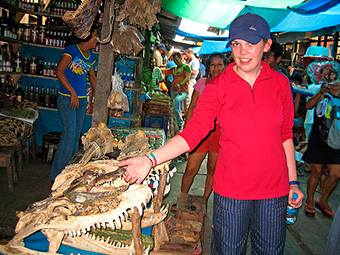 As the gateway to the Peruvian Amazon, Iquitos is the starting point for the majority of cruises and expeditions that take place in this part of the jungle.
As a result, most visitors joining or leaving a rainforest cruise will have a day or two to relax and explore this unique city.
As well as the Manatee rescue centre, Iquitos Peru is home to a variety of other attractions including the huge traditional market in Belen, the Pilpintuwasi Butterfly Farm and the Yacu Puma Centre, making it easy to find an activity to suit your interests during your stay.