Without a doubt, if we think about a cosmopolitan city in Brazil, Rio de Janeiro is the first answer to pop in our head. What is not to like about a coastal city with endless charms and activities to do. This time, we want you to give you a little teaser of the beautiful activities and places to visit in Rio de Janeiro. Truth be told, traveling with purpose make the experience ten times better! That is why we are putting this short summary where we will talk about the best places to visit during your tour in Rio de Janeiro.
Let´s begin the day in Copacabana. Truth be told, who does not like to start their daily activities surrounded by the iconic and wonderful scenery that Copacabana beach has to offer, after all it is one of the most popular and recognized beach destinations in the world. Now, what is that makes attraction stands out from other attractions? Simple, its white sand and warm waters are the perfect combination for people to take a walk, watch the sunset, relax with the sound of the waves crashing, and even kids playing on the shore.
Of course, Copacabana beach is not the only one that you should visit as Rio de Janeiro is a city that offers more than just one beach to its visitors, so another attraction to enjoy in Rio de Janeiro is Botafogo beach. This beach allows us to enjoy outdoor activities and landscapes such as Corcovado and Sugar Loaf, other two beautiful sites that no one can miss in the city. (You heard it from us, and you will as well from the locals!)
Rio de Janeiro offers a broad variety of attractions, so beyond the beaches; visitors and tourists can enjoy the architecture and design that can be found in the Guanabara Palace, which is also a historical site of the city where the governorate of Rio de Janeiro is currently located at. Moreover, not only is the palace itself such a special place on its own, it is also an elegant stop on your way to one of Rio de Janeiro's tourist iconic attractions, Corcovado Hill. Its name, which translates into hunched, is due to its shape which makes it look like a hunched hill funny enough. The best way to get to the top is undoubtedly by streetcar, although there are also different means of transportation to reach the top to take into account as well. Corcovado Hill has several viewpoints from which the visitor can enjoy the city, but at the top of the hill, the attraction that stands out is Christ the Redeemer, which you might have seen as one of the most iconic must do´s in Rio, a truly must have photo!. Christ the Redeemer is a world icon, considered as one of the Seven Wonders of the World. The sculpture is located 710 meters above sea level.
Continuing along with the best places in Rio de Janeiro is another high-altitude attraction in the Sugar Loaf, for which you should head for the famous Urca district. The Sugar Loaf is another icon within Rio de Janeiro, as its top has a privileged view of the city and the Guanabara Bay. Between these two places which can be considered as sightseeing activities on their own, it will definitely be time for a break to recover energy and what better way to do it than enjoying the broad variety of Brazilian gastronomy that can be found in the city, also known as the one and only: Carioca gastronomy.
Carioca gastronomy is exquisite and always goes accompanied by meat, rice, and potatoes, for instance:
The traditional carioca feijoada, takes its origin on the coast region of Brazil, and consists of a delicious combination of beans, manioca, a delicate meat stew and farofa. Not only is this a substantial and rich meal, but it is perfectly balanced to recover all your energy from a day full of activities. You can find them quite a lot in several places in Rio de Janeiro, the seasoning and spice is authentic to Rio! Some other dishes on the other hand are based on shrimp, prawns, fish, and other seafood include leão Veloso, moqueca, or pasteis. This gastronomic variety allows Rio de Janeiro to find local restaurants with flagship courses, prepared in the best way for people´s enjoyment.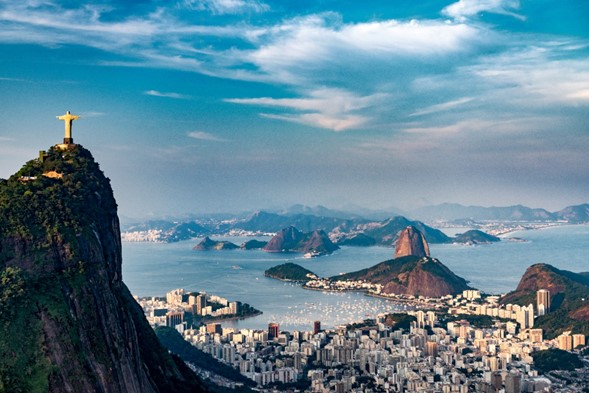 Once you have tasted the true carioca gastronomy, the list of attractions offered by the city continues. Thus, it is time to mention one of the most famous sporty attractions.
For those who love sport, and soccer in general, or were ever a fan of the famous Brazilian World Cup Champion Pele, the Maracanã Stadium must definitely ring a bell!
Maracanã is known for many years as the largest stadium in the country and even the whole world, where stars like Maradona, Ronaldo, and Pele have crossed; besides being the venue for major artistic events.
Another of the most famous sites for its events is the Sambadrome, which is undoubtedly internationally recognized for the huge parade of the Carnival of Rio de Janeiro.
For visitors looking for cultural attractions, Rio de Janeiro's Historic Center, the Duke of Caxias Palace and Itamaraty Palace offer an enriching and very valuable experience.
In the historic downtown area, you will also find squares such as 15 de Noviembre, churches such as the Metropolitan Cathedral, and important monuments for the city. Another place to visit in Rio de Janeiro is the Selarón Staircase, a work that took on a life of its own and was in constant change until the death of its author in 2013.
Undoubtedly, the Carioca city has more cultural samples and historic places that are worth the visit, one of them is the Museum of Modern Art of Rio de Janeiro, where various works of modern art are exhibited own museum. You will be able to encounter a variety of local and international art that comprises famous artists that showcase their talent in the museum.
Talking about Brazil is talking about variety, culture, tradition, sports, and many other things, but one of the most recognized destinations worldwide is Rio de Janeiro. That is why there are must-see places that every visitor has to know in this beautiful city, which we have tried to briefly summarize here for you!
There are several ways to visit these places, one of them is in the Brazil 360º Tour, and undoubtedly the purpose of a trip like this is to discover the variety that Brazil has to offer.