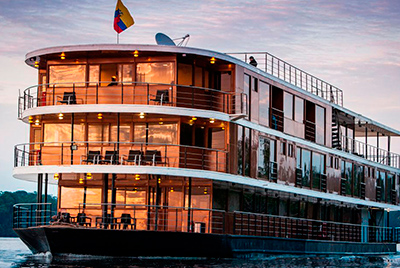 From its vast size to its unique habitat and its mighty river to its towering trees, there are a whole host of attractions that draw visitors to the Amazon from around the world.
For many, one of the main reasons to visit is the abundant animal life. With a huge variety of species living within its borders, some of which still haven't been identified, the Amazon offers visitors plenty of opportunities to get up close and personal with some of the most extraordinary creatures on earth.
Of all the Amazon Rainforest animals that bring people to the jungle, the parrots are some of the most colourful, and seeing a flock of these vibrant birds is high on many visitors' wish lists. One of the best places to spot these favourite Amazon Rainforest animals is at the Yasuni clay lick in Ecuador, a stop on Manatee Amazon Explorer cruises and home to some of the most beautiful birds in the Amazon.
Where is the Yasuni parrot clay lick?
The Yasuni parrot clay lick is located within the Yasuni National Park, around 250km from the Ecuadorian capital, Quito.
With an area of 9,820km2, the park is home to an incredibly diverse array of Amazon rainforest animals and was designated a UNESCO Biosphere Reserve in 1989.
Areas of the park are so remote that it is thought to be home to two uncontacted tribes. However the habitat is currently under threat from oil companies looking to extract the estimated 800 million barrels of crude oil thought to lie beneath the surface.
Why do parrots need to ingest clay?
Parrot clay licks, like the one in the Yasuni National Park, can be found across the Amazon and play an integral role in regulating the environment and keeping Amazon rainforest animals healthy.
Amazon AnimalsIn all parts of the Amazon, parrots depend on clay licks to survive. This is because the seeds that form a major part of their diet contain harmful toxins and the nutrients in the clay help to neutralise them.
By regularly ingesting the clay from Yasuni and other similar sites, Amazon parrots can stay healthy and happy as they digest the seeds and spread them around the jungle to germinate.
As a result, clay licks are a fantastic place to spot rare and beautiful parrots, with hundreds of the colourful birds flocking to the lick each day.
Offering visitors the chance to see a truly unique and spectacular sight, the clay licks of the Amazon are a must for any visitor to the region. Encountering these beautiful creatures up close and personal in their natural habitat is guaranteed to be a fantastic and unforgettable experience, so why not pack your bags now and set off on an Amazon adventure of your own?