The largest protected area in Peru, and one of the largest in the Amazon region, Pacaya Samiria covers an area of around 20,000 square kilometres and contains some of the most diverse and unique wildlife on earth.
Though much of the reserve is given over to virgin forest, there are a number of Amazon cruises that operate in the area, taking passengers deep into some of the most pristine habitats on earth.
Around twice the size of Yellowstone National Park and with some of the least accessible areas of the Amazon, Pacaya-Samiria is a haven for birds, mammals, reptiles and insects. It's also been voted on the 10 best places on earth for wildlife.
Animals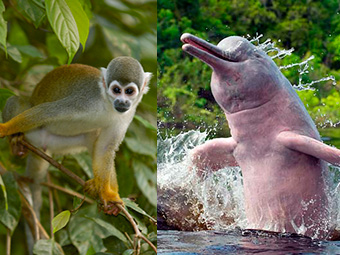 Unlike other Amazon River tours, the boats that ply the waters of the Pacaya Samiria are travelling into an area specially reserved for wildlife. This makes it easier for passengers to spot rare and endangered species from the comfort of their luxurious cabins.
With an estimated 102 species of mammal living within the park's boundaries, there's a good chance passengers on Amazon River tours will come face to face with the rainforest's most important residents.
Generally, it's easier to spot mammals during the wet season as the flooded rivers force them out of hiding and into the open. Watch out for acrobatic spider monkeys as they show off their impressive skills in the dense rAmazon Animalsainforest canopy.
Birds
Home to around 527 bird species including the endangered red macaw, Pacaya-Samiria is heaven for bird watchers and passengers on Amazon River tours should be able to spot a variety of bright and colourful birds during their trip.
As well as the red macaw, the reserve is also home to several species of hawk and sandpiper as well as the prehistoric looking hoatzin bird.
River life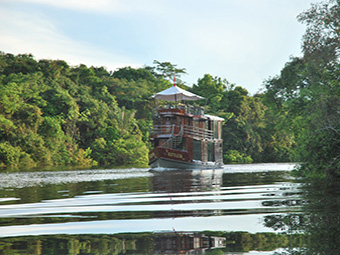 With 69 species of reptile, 259 species of fish and 58 species of amphibian within the park's boundaries, the waters of Pacaya-Samiria are truly bursting with life.
One of the most famous of the region's river dwellers is the pink dolphin, an emblem of the Amazon and one its most recognisable residents. Another inhabitant to watch out for is the rare charapa turtle, a species that is slowly being reintroduced to the Amazon region.
With an abundance of life in the trees, skies, rivers and lakes of Pacaya-Samiria, passengers on board Amazon River tours are guaranteed to encounter many of the region's most unique and memorable residents, something that's sure to make for a fantastic experience and an unforgettable trip.