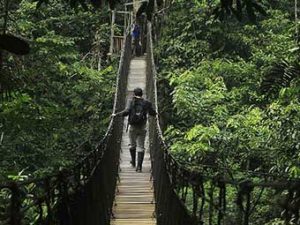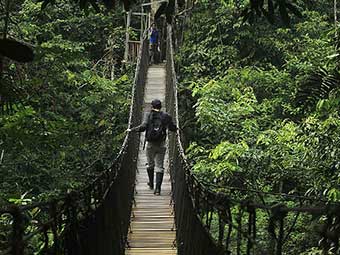 With vast amounts of the Amazon jungle lying in both Peru and Brazil, many visitors to the rainforest will begin their adventure in either Iquitos or Manaus which each acting as the gateway to the jungle in their respective countries.
Though most travellers will simply pass through these cities on their way to discover new and exciting things about the Amazon jungle, they both have a lot to offer in their own right and are more than worthy of a few days exploration.
So, if you're thinking of making a trip to the jungle and can't decide whether to begin in Peru or Brazil, here's a quick run down of what's in store in each of these rainforest metropolises.
Climate
If there's one thing that everyone knows about the Amazon jungle it's that it rains. A lot. And as a consequence both Iquitos and Manaus get their fair share of showers with around 222 rainy days a year in Iquitos and 180 in Manaus
On average, daily temperatures are slightly lower in Iquitos than Manaus where the mercury reaches 37˚C on an almost daily basis, making the Peruvian city a little more bearable for those used to a cooler climate.
Accessibility
Though both Iquitos and Manaus are deep in the jungle, both have airports nearby with regular flights to larger national and international destinations.
From their airports it's only a short journey into the centre of each city, so you can start settling in and exploring the jungle as quickly as possible.
Daytrips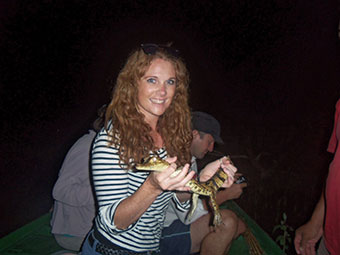 If you're looking for an action packed Amazon cruise Brazil and Peru are both fantastic destinations as there are exciting and eye-opening daytrips available in both countries.
If you've got a few days to explore Iquitos before you embark on an Amazon expedition cruises, there is plenty to see and do to keep you busy until your boat departs.
One of the most popular attractions is Belén, a floating shantytown that rises and falls with the river. In front of this unique neighbourhood is the Belén Mercado where guests can taste some delicious local cuisine and pick up some jungle souvenirs.
Though the grand buildings of Manaus seem incongruous in their jungle setting they make a great backdrop for a day or two of wandering. Spend your time exploring the city and learning about the culture of its native inhabitants or, if you want to learn more about the Amazon Jungle, join a day trip into the rainforest's interior.
With unique cultures, environments and settings of their own, both Manaus and Iquitos make fantastic destinations and a few days is each will make the perfect start or end to your rainforest adventure.