For many visitors to the Amazon, getting close to the local wildlife and spotting rare, exotic and endangered species is a huge part of the rainforest experience.
Though the entire Amazon is alive with plant and animal species, there are some places where you're more likely to see rainforest wildlife than others, especially if there's a particular species you want to spot. And although there are never any guarantees when it comes to wildlife, here are some of the places that will give you the best possible chance of seeing as many jungle creatures as possible.
Brazil
Home to 60% of the Amazon Rainforest, Brazil is considered to have the highest biodiversity of any country on the planet and is second only to Indonesia as the country with the most endemic species.
With 44% of the Brazilian Amazon now protected – an area larger than Greenland – wildlife in the region has a real chance to thrive, free of human interference. As a result, a huge variety of Amazon Rainforest animals can be seen in the country's natural reserves.
The endangered poison dart frog, the wild jaguar and the friendly pink river dolphin can all be seen within the country's borders, as well as a whole host of other animal, insect and birdlife. This makes the country ideal for Amazon Jungle expeditions as well as cruises and excursions.
Ecuador
H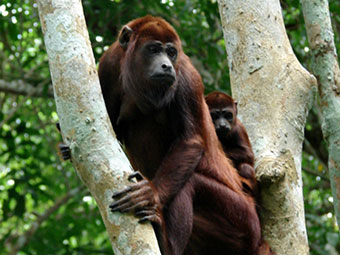 owler monkeysWith 72% of the Ecuadorian Amazon protected, the country makes a great destination for those who want to experience Amazon Rainforest animals in their natural habitat.
Creatures worth looking out for include the Amazonian manatee, howler monkeys, black caiman, scarlet macaws and three towed sloths.
With so much biodiversity in the jungle, Amazon Rainforest animals are never too hard to find. So if you're heading into the region any time soon, be sure to keep your binoculars handy and your eyes peeled.
Peru
Though the Amazon covers almost 60% of Peru – 11% of the jungle as a whole – only 12% of its rainforest is currently protected. However, as the least populated part of Peru, large areas of the Amazon have escaped being damaged by human activity.
One of the best places to see Amazon Rainforest animals is the 20,000km2 Pacaya-Samiria national reserve, 183km southwest of Iquitos in the north of the country.
With 132 species of mammal, 150 species of reptile and 449 species of bird in this carefully protected area, spotting the local Amazon Rainforest animals shouldn't be too difficult.