Traveling to the Amazon is a unique experience and to venture along the rivers of the region and enjoying the exuberance of the largest tropical forest in the world is the dream for most visitors. There are two ways to get to Santarém from Manaus, by plane or big slow ferry boat.
For the trip to be even more memorable, the tip is to travel by big slow ferry boat – the most used means of transport by the local population, remember this is not a cruise per say but a ferry ride without excursion stops, to learn more about river cruising from Manaus – visit our Amazon cruise options from Brazil. From Manaus it is possible to go by ferry to several cities in the Amazon. Just plan your itinerary to travel around the Amazon.
The ferry journey time between Manaus and Santarém is around 30 hours and covers a distance of around 740 km. Typically a few ferries run weekly, although weekend and holiday schedules can vary so check in advance.
Boats bound for Santarém (Pará) leave from the Port of Manaus and the tickets can be booked in advance by a travel agency that sells the ticket or booked when you arrive in Manaus. In this case, just go to the city's port and look for the counters at the waterway terminal.
Looking for an expedition cruise instead? Voyagers travel has several options of riverboats that offer Amazon expedition style cruises in the Brazilian Amazon:
Untamed Amazon cruise with options for 1 to 5 night cruises
8 day river expeditions on board IL Tucano
Amazon clipper cruises offers 3, 4 and 5 night programs
Luxury cruise options on board the Iberostar Grand Amazon (large ship)
How to get tickets for the Amazon ferry from Manaus to Santarem?
There are a bunch of agents in town that sell the tickets, but don't bother with them. They'll charge you double. Instead, there is a ticket window at the port in Manaus, and they sell the tickets. The cost of the ticket is 185.00 (BRL) or about $37.00 (USD).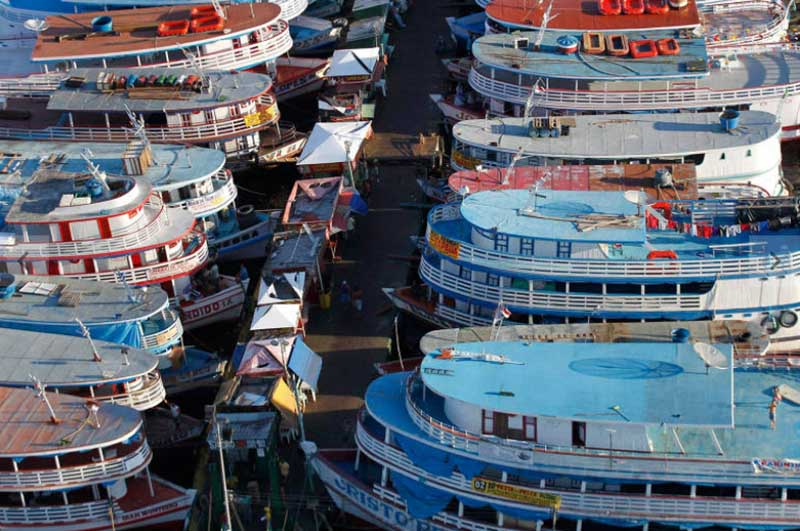 You can buy the ticket the day before my journey. However, you could buy the morning of the trip without any issue.
The boat I took left at 12pm and boarding time was between 10am-11am. The ticket is just for space to string a hammock. You can also book a camarote (bunk in a room) for about BRL 800 or $157(USD).
How many stops happen during the Manaus to Santarem Trip? 
The big slow ferry boat makes four quick stops in the following cities: Itacoatiara (AM), Parintins (AM), Juruti (PA) and Óbidos (PA). Stops take around 20 minutes for passengers and cargo to board into and land out.
By this time, local people take the opportunity to sell snacks, even at dawn. Some of them get on the boat while others sell from the dock holding a long stick with a basket at the end to catch up passengers.
What to see on the Amazon ferry ride?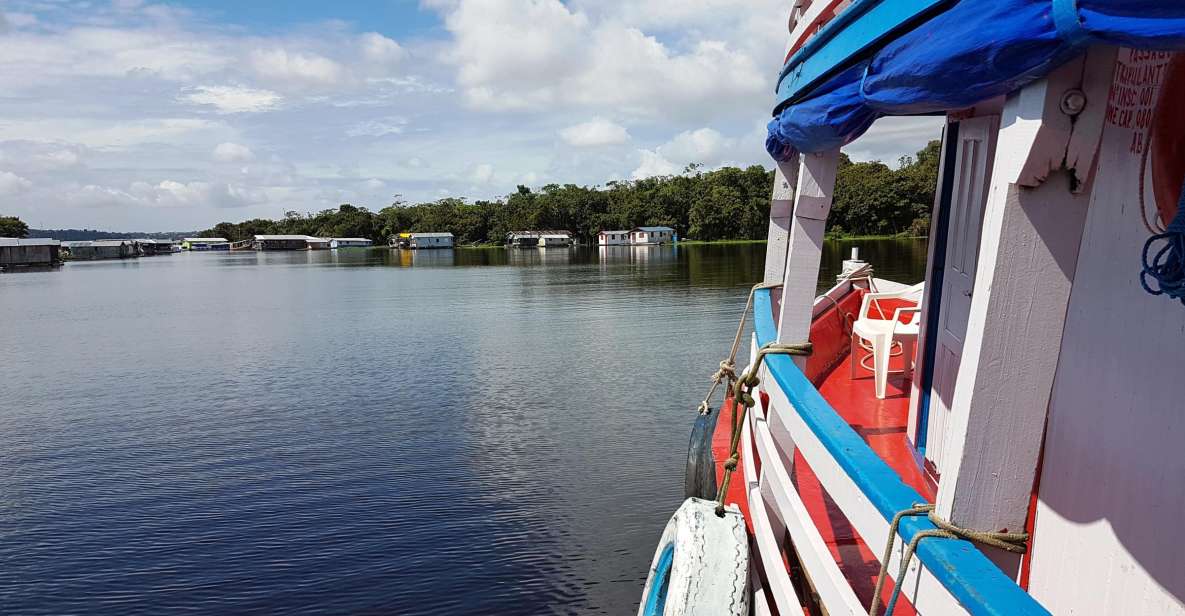 The trip although not a cruise itinerary with visits, still is fantastic and has incredible landscapes like seeing the sunrise and sunset on the Amazon River, something to keep in memory.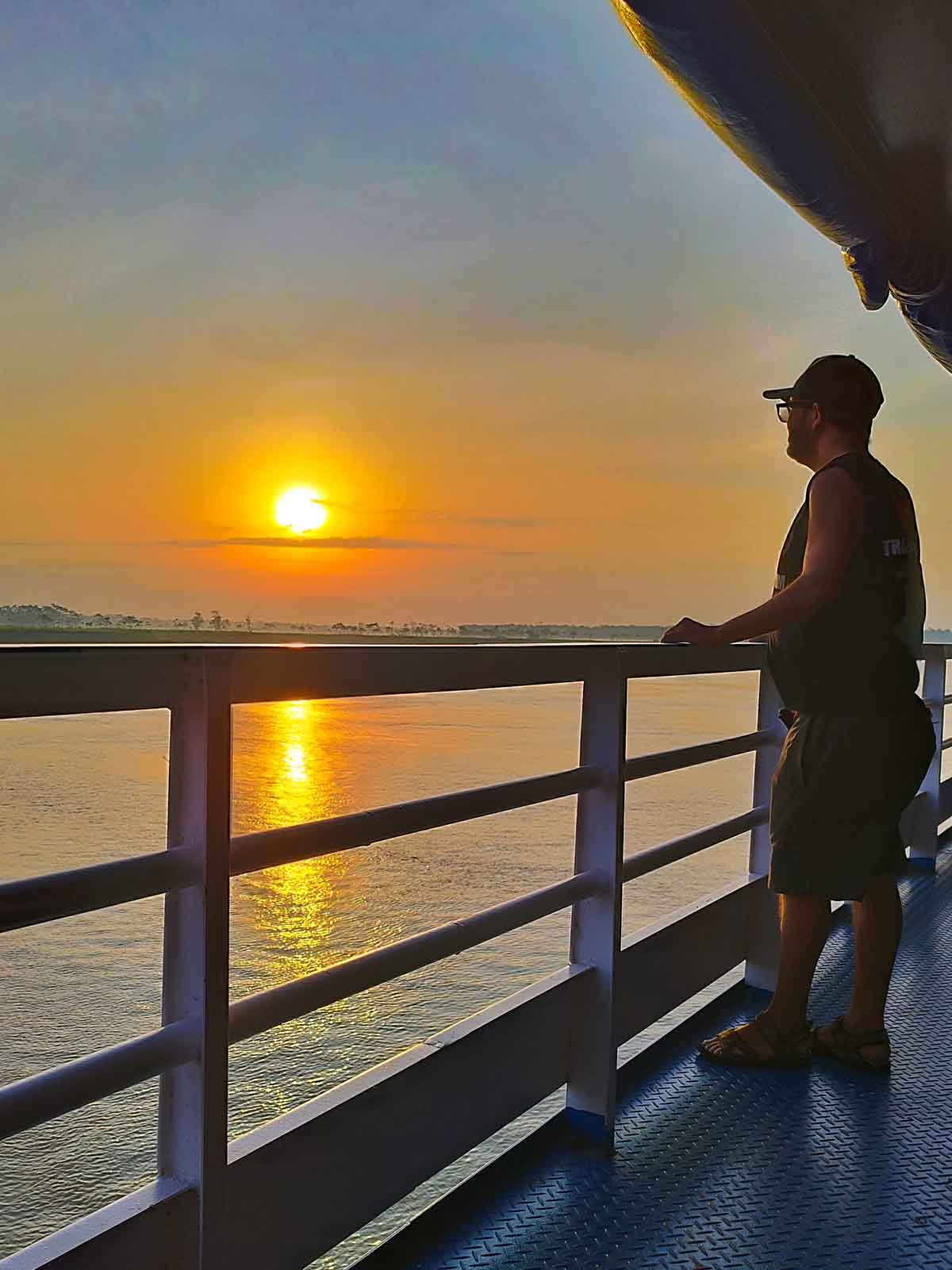 About 15 km after Manaus the slow boat cross the meeting of the water (Solimoes River meets the black Rio Negro river). The density of these two rivers is so different that they never mix and run next to each other for a couple of kilometers.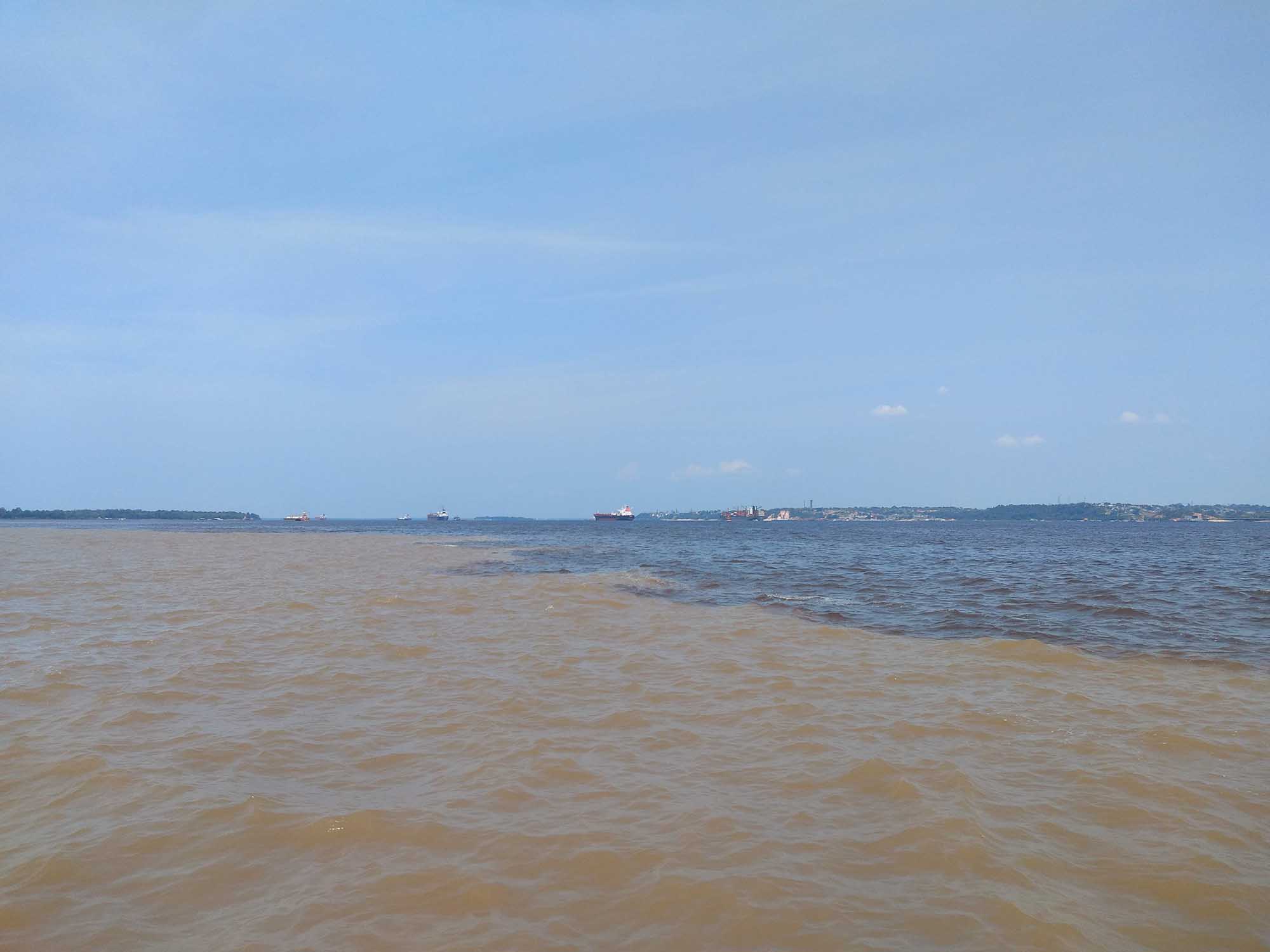 During the whole trip it is possible to see from the boat the huge nature, river dolphins, turtles and many birds, like Macaw parrots, fly by, making loud noises – like a free flying parrot sould.
How long does it take to get to Santarém from Manaus?
Usually the boat takes 30 hours from Manaus to Santarém and takes 42 hours from Santarém to Manaus. In fact, you'll be spending 2 nights on board with an extra night possible if things move really slowly.
How to sleep on the Manaus to Santarem ferry boat?
Cabin or hammock
If you prefer comfort, travel in a cabin, but if you prefer to live intensely like the local population, choose to travel by hammock. Each passenger takes his hammock, which must be purchased before boarding, in addition to the ropes to tie. The best hammock are those braided lines at least five feet wide.
Cabin: all but the smallest boats offer cabins which are tiny rooms with bunk beds. Some come with air-conditioning (and maybe an extra charge for using it), some come with, some without sheets. Stated prices for cabins are always per person and if you don't pay for 2 people someone might be put into the other bed in your cabin. The main advantage of cabins is that one can lock them, so if traveling with expensive gear, one should consider getting one for the gear (and still sleep in a hammock outside).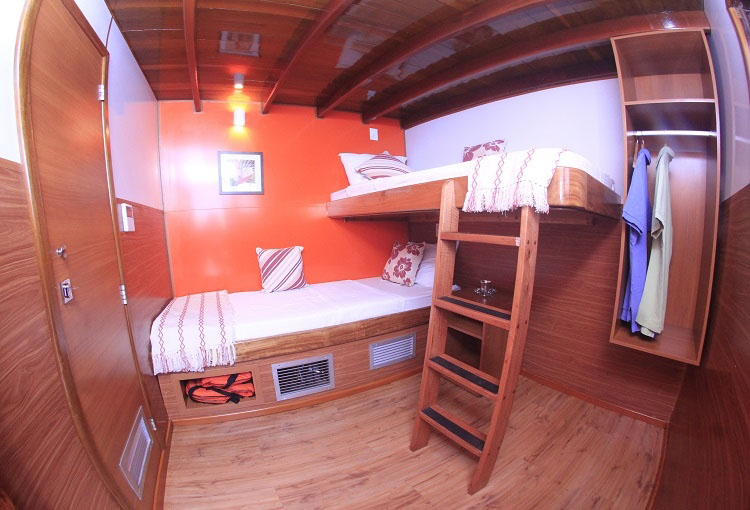 Suite: larger boats have suites, which are slightly larger cabins with private toilets and showers. They cost about 5 times as much as a space in a hammock but are a good choice for people who don't want to deal with the sometimes disgusting public toilets and showers.
Master Suite: suites with a view, even more expensive. Only available on very few boats.
Note that, usually, neither cabins nor suites have windows and can become very moist without air-conditioning and/or regular airing.
It's not a good idea to be tight and use your sleeping mat instead. People will be walking over you or someone will put their hammock 10 cm above you. Or it starts to rain and you wake up soaked to the bones.
Hammock: all boats offer space for hanging your hammock. This is what most people do.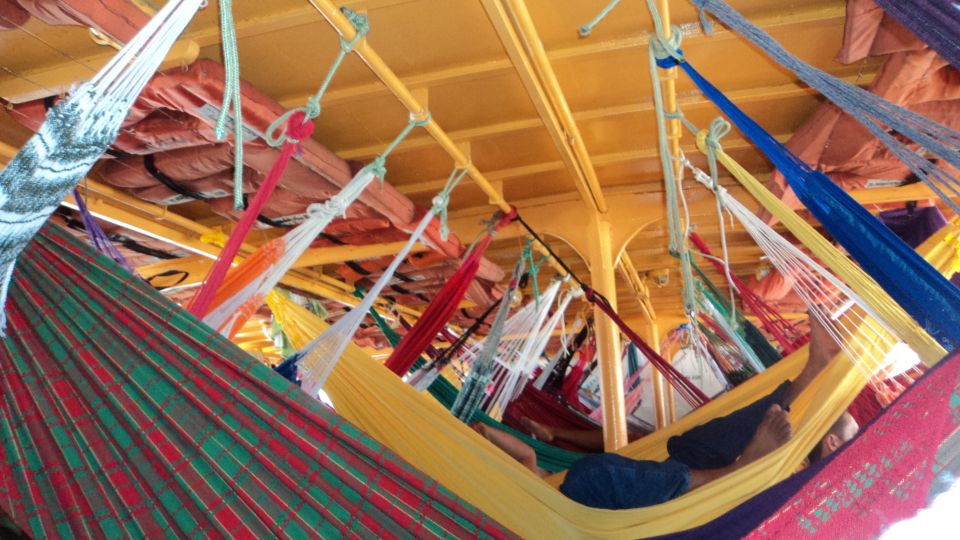 . This warrants its own section – there is more involved than one might think;
. Typical hammock-space on a larger vessel (4 rows per deck, 2 decks);
. Be early to get a good spot. The best time is 5 minutes after the boat arrives since all the locals will do the same;
. Avoid places close to sources of noise and smells: TV, toilet, bar, restaurant, boat engine;
. Don't use too much space. Especially when traveling in a group it is tempting to mark your area and leave lots of space between your hammocks. Don't. A good rule of thumb is to space hammocks like the others do. If you don't, someone might just put his hammock in between, move your hammock or even put his above yours;
. Hang it low. The lower it hangs, the less painful the fall if your knots fail;
. If you need help securing your hammock just ask the person next to you or simply look lost – people will help you;
. On some boats there is prominent signage stating that couples are not allowed in the same hammock.

How to eat on the ferry boat?
Food isn't included on the boat ticket. However, there is a restaurant that serves 3 meals a day if you want to pay for them. The meals cost about 15.00 (BRL), or $4 (USD) and are actually really good. But few people eat in the restaurant. Most people seemed to pack in their own food – likely to save money. To the tourists, the $4 (USD) meals are a good deal.
There is also a bar on the top deck of the boat that serves snacks like toasted sandwiches, hotdogs, chips, and chocolate bars. They also sell beer, bottled water, juice, and soda.
But if you don't want to buy beverages they serve as well a couple giant units of drinking water available for passengers free of charge.
Services available on the ferry boat
If you're expecting wifi, dancing entertainers, and a casino on this boat, you're on the wrong ship. The services are very basic. That said, they do the trick and you will be comfortable enough. There are large bathrooms on board. The toilets get a bit nasty by the end of the day, but they are cleaned by the staff. In the bathrooms there are also a couple showers with cold water. On the top deck, there are also open-air showers that are mostly used by the kids to play under and stay cool.
Ferries that make the line Manaus Santarém
The Port of Manaus website you can find more information, such as ticket prices and ferry boat schedules and cabin reservations.
São Bartolomeu IV, V & VI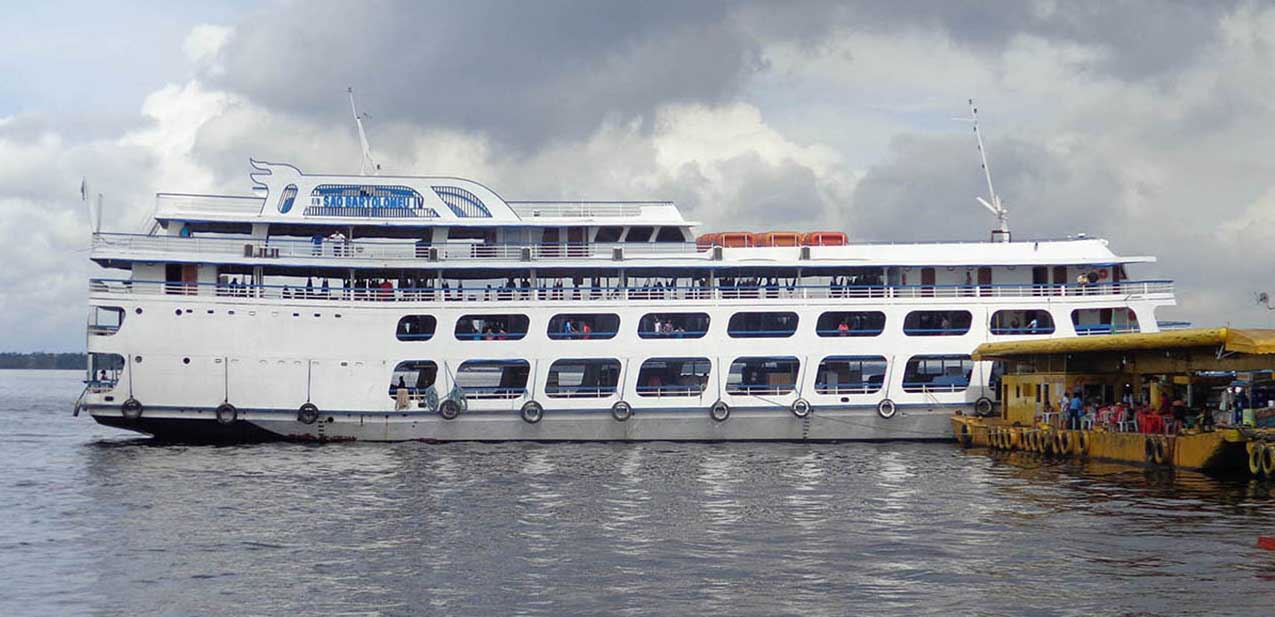 . Line: Manaus-Monte Alegre – (Monte Alegre is 100 km after Santarém);
. Traditional ticket (in hammocks): from 185.00 (BRL);
. Departure: from Manaus on Tuesdays and Saturdays at 12pm;
. Cabin Value: 800 (BRL) (per traveler);
. Travel Time: About 30 hours;
. Capacity: 1200 passengers + cargo;
. Stops in: Itacoatiara, Parintins, Óbidos, Juruti, Santarém and Monte Alegre;
. Instagram @saobartolomeu_
Ana Beatriz V
. Line: Manaus-Santarém;
. Ticket in hammocks: 250.00 (BRL);
. Departure: from Manaus on Thursdays at 12pm;
. Cabin Value: from 750.00 (BRL) (per traveler);
. Travel Time: About 30 hours;
. Capacity: 1420 passengers + cargo;
. Stops in: Óbidos, Juruti and Parintins;
. Website: https://www.naviosanabeatrizlllx.com/
Madame Crys I
. Line: Manaus-Santarém;
. Ticket in hammocks: 220.00 (BRL);
. Departure: from Manaus on Mondays at 3pm;
. Cabin Value: from 1200.00 (BRL) (couples or 2 travelers);
. Travel Time: About 30 hours;
. Capacity: 1420 passengers + cargo;
. Stops in: Óbidos, Juruti and Parintins;
. Website: https://www.barcosdonorte.com.br/ferryboatmadamecrys
There is also a speed boat terminal from Manaus – Santarém – Manaus, but you should call: (+5593) 99219-7581 or to consult @empresaerlonav to confirm if the service is still working. It takes 18 hours by speed boat, much less than the 30 hours by ferry boat.
Other boat destinations
Of course, Manaus to Santarém isn't the only boat destination on the Amazon. Most of the trips include services very similar to this one and are done on boats similar to this one. I've included some of these journeys below. However, there are countless places you could go on the Amazon and there are small boats that take passengers to some of these locations.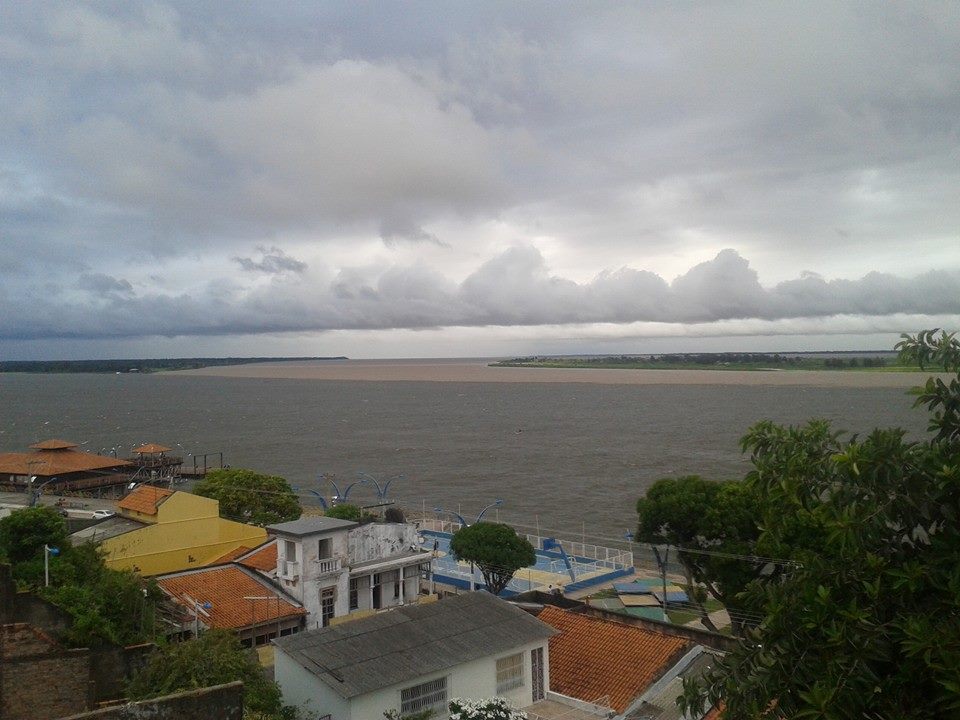 Manaus to Belém: 6-7 days upriver; 3-4 down river;
Belém to Santarém: 3-4 days upriver; 1-2 down river;
Manaus to Tabatinga: 5-7 days on a slow boat; 32 hours on the fast boat;
Macapa to Belém: 24 hours.
You can also go up river and travel from Manaus to Iquitos in Peru.
Best time to take a boat trip on the Amazon River
Depending on the time of year you can have completely different experiences.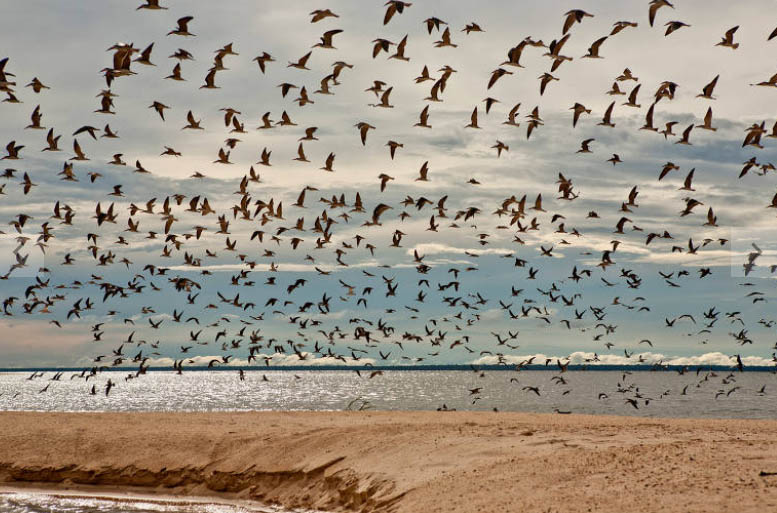 The Amazon has two seasons (dry and rainy) completely change the landscape of the riverbanks. The ideal would be to travel along the Amazon River in both seasons, thus experiencing the impressive change in the level of the rivers, which varies up to 15 meters between the full and dry seasons.
During the dry season, called the Amazonian summer (June to November), rainfall is lower, the level of rivers drops, forming river beaches.
In the rainy season, called the Amazon winter (December to May), the river level rises, covering the trees, forming the igapós and streams.
Not suitable for
.Pregnant women;
.People with mobility impairments;
.People with heart problems;
.Wheelchair users;
.People with respiratory issues.
Important information
What to bring;
. Passport or ID card;
. Towel;
. Food and drinks;
. Water;
. Insect repelente;
. Cash;
. Sleeping bag.
Tips before you go
. This is a transportation ferry, not the best option for jungle sightseeing in the Amazon;
. If you choose the hammock option, you can either bring your own hammock and ropes, or buy them as an add-on during checkout;
. Please bring cash to buy food and drinks on board;
. Boats operate on River Time in the Amazon; don't expect punctuality;
. Expect to have no internet access or mobile phone signal for most of the journey.
If you are looking for an organized Amazon tour or cruise, Voyagers travel offers several itineraries and a more organized experience with private facilities in your cabin, river view windows and in some cases balcones and hot tubs.