Home to around 80,000 species of plant, and with more being discovered every day, it's no wonder that some of the berries, leaves, roots and flowers found in the Amazon have unique properties. From curing headaches to inducing hallucinations, rainforest plant life has a wide range of applications.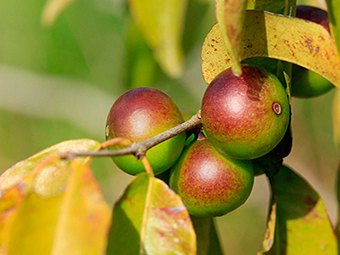 Since the acai berry took the health food world by storm, food manufacturers and the diet conscious have been on the look out for the next Amazon 'it' fruit. They've been hoping to find a berry that will transform our bodies and provide the vital nutrients and antioxidants we need.
One fruit that's starting to get the health world excited is camu camu, an Amazonian berry that is said to offer a whole host of benefits to health conscious consumers. So just what is camu camu, will it be hitting a shop near you and could it revolutionise your diet?
What is camu camu? If you've been on any Amazon river trips in Peru or Brazil, there's a good chance you've already seen camu camu. Native to the banks of the jungle waterways, camu camu, or Myrciaria dubia as it's also known, is a bushy tree with white flowers and a sweet smelling aroma.
Harvested by local people for generations, camu camu is relatively easy to grow, thriving in hot, wet tropical conditions, though it can survive in subtropical climates. Thanks to its riverside habitat, the fruit is easy to spot during Amazon river trips, so keep your eyes peeled if you're in the area.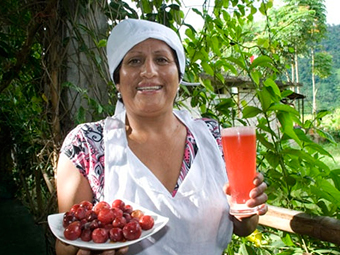 What are its health benefits?  Vitamin C. The most notable property of camu camu is its high vitamin C content. On average each berry is around 2-3% vitamin C, 100 times more than the equivalent weight of lemon and ideal for those looking to include more of the vitamin in their diet.
As well as vitamin C, camu camu also contains valine, potassium, leucine, ellagic acid and gallic acid, all of which have significant health benefits and anti-oxidant properties.
Though camu camu isn't readily available in the supermarkets just yet, you can sample the fruit on Amazon river trips or find it in powder or tablet form in your local health shop.
If you're heading off on an Amazon cruise Ecuador, Peru and Brazil are all home to plants that could revolutionise the dietary world. So make sure you keep your eyes peeled, your taste buds alert and take in all the expertise, advice and knowledge the local people have to offer.