With a huge variety of mammals, reptiles, amphibians and insects, the Amazon has always been a popular destination for nature enthusiasts and animal lovers. However, with more than 400 species in Peru alone, it's the jungle's birds that really bring the rainforest to life and amaze visitors time and time again.
Birdwatching on Amazon cruises From macaws to hawks and the horned screamer bird to the common poto, Peru is home to more bird species than are found in all of North America and Europe combined.
This means that any passenger on an Amazon expeditions by riverboat in Peru is almost guaranteed to spot a few rare and beautiful birds, with keen-eyed 'twitchers' potentially adding hundreds of species to their tally.
Spotting Peru's birds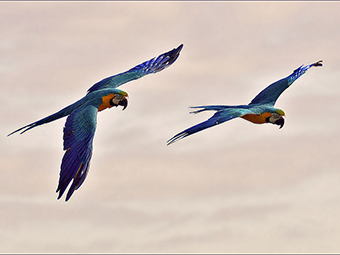 With over 400 of Peru's native bird species living within the borders of the Amazon Jungle, the best way to spot the rarest and most beautiful species is the join an Amazon tours by boat in Peru.
Taking passengers deep into the jungle, every boat in the Peruvian Amazon riverboat fleet is specially designed to help visitors get the most out of their trip. With large windows, open decks and on board experts to help passengers gain a deeper understanding of the Amazon and its animal life.
With bright, colourful and exotic birds so plentiful in the Amazon, many of the passengers travelling on an Amazon expedition cruises in Peru will be able to spot stunning birds from the comfort of their ship. However there is a wide choice of excursions available for those who want to get a closer look.
The best time to visit
With the natural abundance of birdlife on Peru, visitors are likely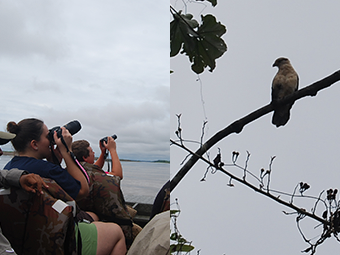 to spot many of the country's beautiful species no matter when they visit. However passengers joining an Amazon cruise in Peru during the wet season will have an even better chance of spying exotic and endangered species.
Lasting from December to June, the wet season sees the jungle's rivers and streams overflow, transforming the lush, rich forest into a vast network or lakes and waterways.
This huge influx of water helps to lift boats high up towards the jungle canopy, condensing the area available for birds to perch and bringing nature enthusiasts even closer to these captivating creatures.
With over 400 species to spot, the Peruvian Amazon is one of the best bird watching destinations in the world. Whether you've just started or have been a bird watcher for years, you're guaranteed to find something to excite, inspire and amaze you in the Amazon.