It is with great pleasure that we announce that our newly launched 20-suite luxury river vessel, the Aqua Nera, successfully embarked on its highly anticipated maiden voyage in the remote Peruvian Amazon from July 3rd to July 10th, 2021. 37 guests sailed on 3-, 4- and 7-night explorations into the depths of the world's most biodiverse rainforest, in an exclusive journey hosted by our CEO and founder, Francesco Galli Zugaro.
The itineraries were tailored with once-in-a-lifetime experiences that included intimate encounters with exotic wildlife and exhilarating adventures ranging from jungle walks, spotting the legendary Amazonian pink dolphins, piranha fishing, kayaking along the river's narrow black water tributaries, and more. Excursions were carried out in small groups, guided by our expert naturalists, who shared their excitement in returning to nature after a long pause in operations.
Onboard, guests indulged in the ultrachic and luxurious amenities that Aqua Nera has to offer, including spacious and elegant indoor and outdoor lounges, a river-facing gym with the region's first designer boxing corner, an observation deck, a billiards room, private lounge with movie screening facilities, spa, and an outdoor plunge pool conveniently located at the bow of the ship for panoramic rainforest views. It is however the exquisite detail of the décor that truly sets Aqua Nera in a league of her own. No feature is spared, whether it is the custom-made bathroom tiles evoking the Shipibo tribes' Amazon prints or the soft furnishings that recall motifs from the turn-of-the-century rubber boom era. Aqua Nera also pays tribute to her sister ships, incorporating area rugs made from recycled fishing nets selected at Maison & Object in Paris, Bangkok-sourced Jim Thompson fabrics to adorn the suites and public spaces, as well as Amazonia-inspired gold leaf plates designed by Gaya Ceramic in Bali with our Director Birgit Galli Zugaro.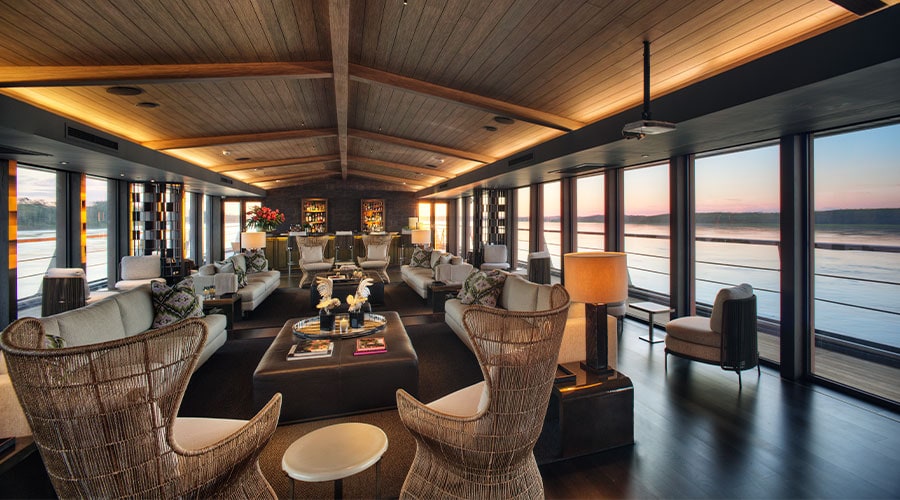 Award-winning Peruvian chef Pedro Miguel Schiaffino oversaw the cuisine for this exclusive departure. As Consulting Chef for our Amazon ships, he premiered Aqua Nera's new rainforest-to-table menu, highlighting the fresh, exotic, and largely unknown native produce of the Amazon rainforest, echoing our steadfast commitment to sustainability and supporting local producers.
Our focus on sustainable tourism prevails in the construction and design of Aqua Nera with the use of efficient energy sources and recyclable innovative materials across the vessel. Responsible operations, wildlife conservation, and community engagement projects continue as the company's key drivers of sustainable development in travel, prioritizing the social and environmental impacts of operating in a culturally-rich and pristine natural destination such as the Amazon.
A designated onboard Health and Safety Officer guaranteed the compliance of Aqua Expeditions' stringent health and safety protocols throughout the journey. Our crew members were COVID-19 tested for several days leading up to embarkation, as well as guests, who were required to present proof of a negative COVID-19 test result issued within 72 hours of the departure. We were also able to facilitate onboard pre-departure Antigen testing for departing guests with results made available onboard within minutes. These protocols will continue as an important part of Aqua Expeditions' dedication to providing guests with the ultimate experience in safety and comfort.
Additionally, we are extending our Early Bird Offer when you book before 31 December 2021 for 20% off across all departure dates in 2021 and 2022.