All treehouses at the Treehouse Lodge come with comforts you wouldn't expect to find high in the trees in the middle of the jungle. Showers, sinks, toilets, fresh white linens, comfortable beds, and chairs are our standard. So they don't come with hot water, but a cool shower after spending the day in the heat is very refreshing. The entire structure of the treehouse is sealed by mosquito mesh woven so fine that it will not obstruct your view in any way. Additionally, each bed is equipped with another layer of mosquito mesh draping's which tuck in under the mattress.
The friendly staff at Treehouse Lodge will take your luggage to and from your treehouse and clean your treehouse daily. After enjoying a nice dinner at the main lodge, the path to your treehouse will be lit ensuring you a peaceful and safe walk home for the night.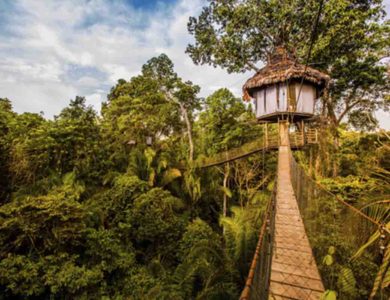 Is this what you are looking for?