San Miguel del Bala Lodge
At San Miguel del Bala we want to make your stay as comfortable as possible, while enjoying all the wonders of the Bolivian Amazon. It is for that reason that we have built two lodges: San Miguel del Bala Lodge and Caquiahuara Lodge. These two ecolodges give our guests the opportunity to stay alongside the Tacana community for a cultural experience as well as offering an amazing adventure inside Madidi National Park (Caquiahuara is only offered on itineraries that stay for 3 days or more). Regardless of the tour you decide to take, San Miguel del Bala is proud to offer our clients the following services.
Our first lodge, San Miguel del Bala, offers 7 Private cabins (one with a double bed, 6 with two twins), private bathrooms, a hammock hut and cultural center, a dormitory cabin for larger groups, and a wonderful restaurant where you eat all your meals by the river.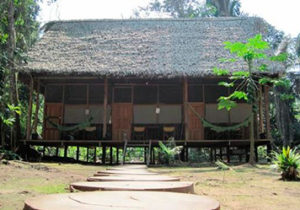 Is this what you are looking for?
Our first lodge, San Miguel del Bala, offers 7 Private cabins (one with a double bed, 6 with two twins), private bathrooms, a hammock hut and cultural center, a dormitory cabin for larger groups, and a wonderful restaurant where you eat all your meals by the river.
In our second lodge, Caquihuara (only available on 3 to 5 day itineraries), there are three private rooms, a shared bathroom, and a nice kitchen and dining area for your meals.
Lodge Features:
Solar powered lighting in both lodges
All meals prepared from locally grown produce and cooked with love by our specially trained chefs from the community of San Miguel
Free coffee and tea at all times
A native guide from the community will accompany you on all your activities.
Comfortable motorized river canoes with roofs and cushioned seats.
Amazing cutltural exchange with the Tacana Community
Natural pool and waterfall for hot days when you need a swim
12 trails that allow our clients to really explore the biodiversity and culture of the Bolivian Amazon
Macaw observation deck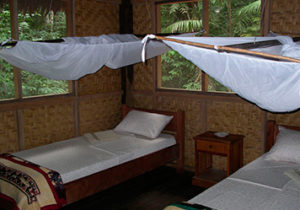 3 days itinerary
Three days/Two nights **Most Popular
| | |
| --- | --- |
| Day 1 | Exploring the Rainforest |
| Day 2 | Madidi National Park |
| Day 3 | Departure |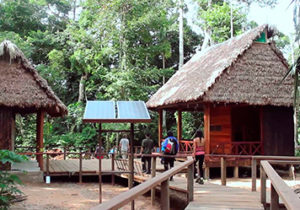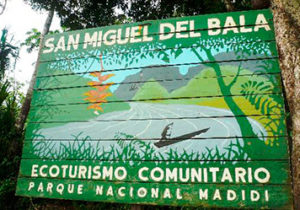 Day 1: On the first day of your three-day adventure you will leave from the offices of San Miguel del Bala across from the Amaszonas Airlines offices. Your guide will take you and your bags to the motorized canoe that awaits you in the port of Rurrenabaque. From there, you will be taken 45 minutes up the Rio Beni to the lodge, where a refreshing tropical fruit juice will welcome you.
After settling into your private cabin your guide will take you back in time as he leads you through the rainforest and shows you the ancient trapping methods of the Tacana. Learn how the Tacana outfoxed their prey with unique and interesting traps that helped them catch dinner. Your guide will show you how each trap works, as well as the medicinal plants the hunters would collect as they checked their traps.
After returning to the lodge you can go wash up and sit down to a delicious lunch that includes all locally grown ingredients (vegetarian options included with advance notice). Go rest in a hammock after lunch and enjoy the tranquillity of the river and sounds of the jungle.
After you are recharged your guide will take you to visit the community of San Miguel, a Tacana village, to experience how tourism and your money has helped the San Migueleños improve their day-to-day lives. Take a stroll through the village as your guide explains how the community is organized. Visit the school and your guide's home, learn how to weave, make a thatched roof, squeeze sugar cane yourself and enjoy a sweet and refreshing drink (best served with some lemon). Your visit to the community of San Miguel will give you a look at the Tacana villagers' daily lives as well as let you see the great things your money is doing as a client of the community owned lodge!
Enjoy your dinner and relax the rest of the evening in your cabin or in the hammock hut.
Day 2: Your day starts with tropical bird songs and a nice breakfast by the river. Once you are done your guide will sit with you and explain the day's activities. Today you have the option of staying in San Miguel for the morning to enjoy some of the other activities offered in the area (canyon, natural pools/waterfall, or medicinal plant walk). If you want to spend more time inside Madidi National Park you can choose to leave early after breakfast to go up to the cabins inside the national park.
The trip to San Miguel's cabins inside Madidi National Park is a wonderful 1 ½-hour boat right up the Beni and then into Madidi National Park by way of the Tuichi river, a smaller, more intimate body of water that allows for more animal and bird sightings. Once you have arrived at the cabins and are settled into your rooms, your guide will open your eyes to the magic of Madidi National Park, one of the most biodiverse protected areas in the world. There are 7 trails leading away from the cabins of varying difficulty and distance. Your guide will consult the group and determine where you want to go and what difficulty level you would like to take. Take walks by day and night to see how the forest changes with the setting of the sun. Enjoy the same quality meals you had in San Miguel during your stay in Madidi. Relax and enjoy being in the middle of the amazing Madidi National Park in between your adventures.
Day 3: Your final morning in Madidi National Park starts off with a breakfast that will get you ready for your morning activities and the journey back. On your last day you will receive lunch as well as you return to your cabin and pack everything up. On your way back to Rurrenabaque you will stop off to observe the magnificent macaws that make their nests in the cliffs along the Tuichi River.
You will get back to Rurrenabaque in the late afternoon ready for a bit of rest and relaxation before you set out for your next adventure.
What do these prices include?
Guide
All meals while on the tour
Transport
Lodging
Bottled water
What isn't included?
Entrance fee to Madidi National Park which is 125 bolivianos (around $18 US) for foreigners and 45 bolivianos for Bolivians
All alcoholic beverages and sodas will be extra