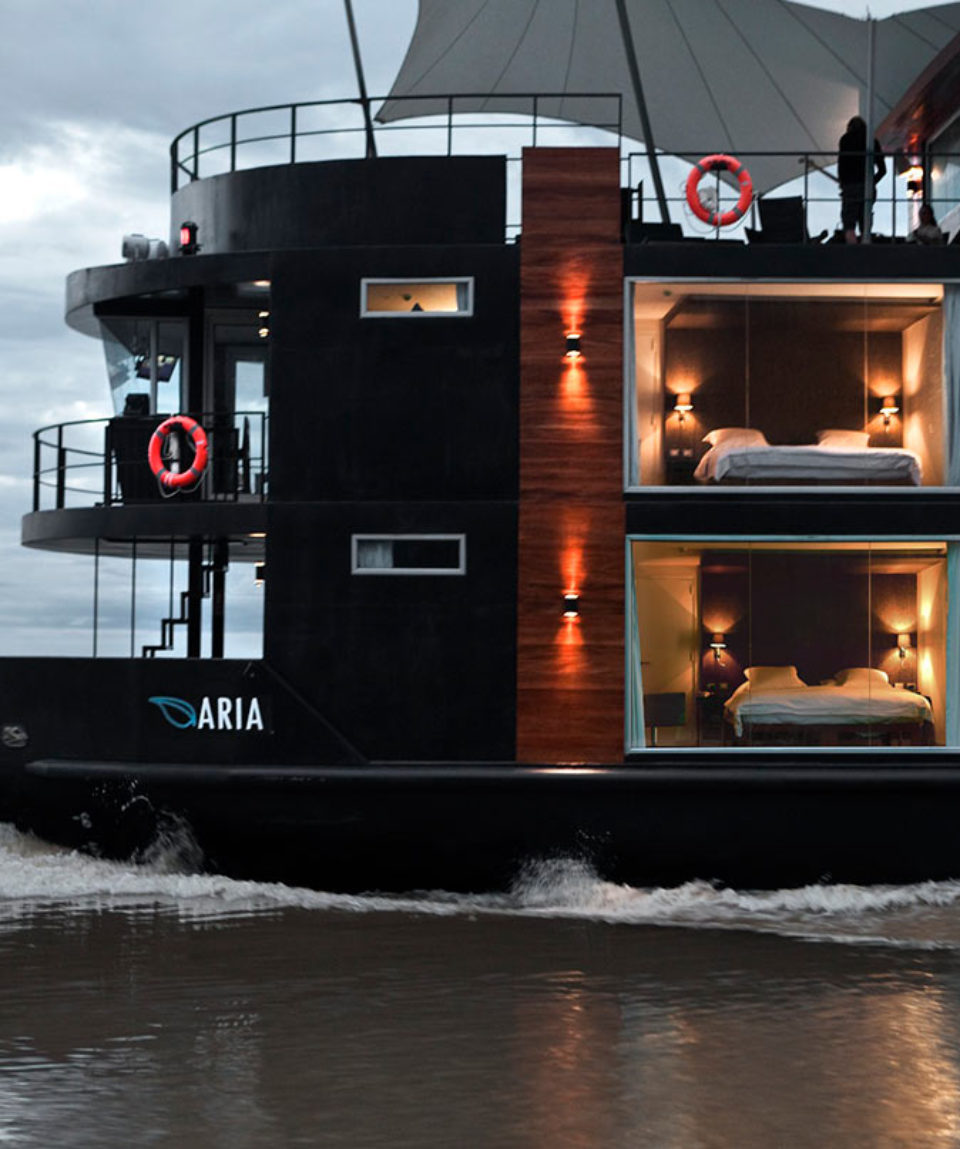 Aria Amazon River Cruise
The 147-foot-long, M/V Aria is the ultimate luxury cruise ship on the northern Amazon River in Peru and it is custom built by Peruvian architect Jordi Puig. It launched in April 2011 and offers an extraordinary level of comfort while enjoying an amazing Jungle experience!
The boat's itineraries explore remote areas of the Amazon River; it has 4 world-class guides and 24-crew member and also includes an Amazon wildlife reference library plus air-conditioned multimedia room.
.
Let's cruise the Amazon Jungle on board the Aria!
–
Vacation Style Holiday Type
All about the Aria Amazon River Cruise.
The M/V Aria features 16 specially designed cabins with floor-to-ceiling picture windows, a fully air-conditioned top deck with observation lounge as well as the Aqua Expeditions' signature Amazon Grill with award-winning Executive Chef Pedro Miguel Schiaffino.
The boat's itineraries will vary from those of its sister ship, the M/V Aqua, but will also explore remote areas of the Amazon River. The 24-crew member M/V Aria is staffed with four world-class nature guides and will also include an Amazon wildlife reference library and air-conditioned multimedia room.
.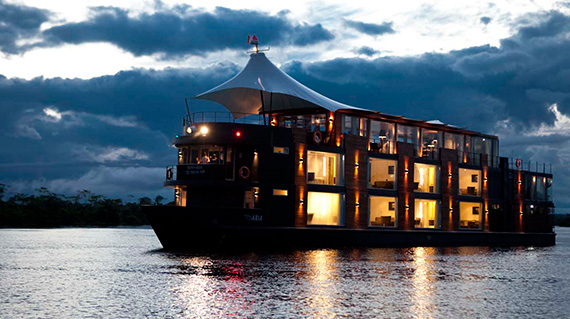 The tour package inclusions and exclusions at a glance
What is included in this tour?
Items that are included in the cost of tour price.
All meals while onboard
Bike use
All excursions off the Aria Amazon
Beverages (non-alcoholic, select premium wines, sparkling wine and national beer)
Transfers to/from vessel when arriving or departing on recommended flights
Pacaya Samiria National Reserve entrance fee
Whats not included in this tour.
Items that are not included in the cost of tour price.
Air tickets to and from Iquitos
Guide and crew gratuities
Boutique purchases
Day 1

Iquitos - Amazon river

We have 3,4,7 and 8 days cruises, in this case, we will detail the 8 days itinerary:

We will meet at Iquitos International Airport then enjoy lunch together at a local restaurant or we will serve a box lunch en route, depending on the flight arrival time. The afternoon continues with an introduction to this historic city and the opportunity to meet an indigenous Amazon community.  At 6:00pm we will board the ARIA AMAZON. Settle into your generously proportioned suite as you begin one of life's greatest adventures. Following a routine safety drill and introduction to our naturalist guides, we gather for innovative Amazonian cuisine created by our Executive Chef Pedro Miguel Schiaffino, whose restaurant, Malabar, is the one of Lima's top ranked dining experiences.

Day 2

Amazon river - Yarapa river - Nauta Caño

Aboard our comfortable skiffs, we set sail from the Amazon River to the Yarapa River. Keep your binoculars ready to spot tropical songbirds, black collared hawks and sloths. We'll go fishing for Amazonia's notoriously ferocious piranhas while our naturalist guides share stories of Lake Moringo. As the sun sets, we head off on an evening's wildlife excursion with extraordinary stargazing on the black waters of Nauta Caño.

Day 3

Marañon Creek - Suspended Bridges Yanayacu-Pucate river

Rise with the sun to explore a 'lost river' along the Marañon River. After breakfast, we will take a jungle walk across suspended bridges deep into the high Amazon rainforest. Later, swim, canoe or kayak in Yanayacu-Pucate River as we look for legendary pink river dolphins. Focus our hi-tech telescope on the night sky to identify the planets and constellations.

Day 4

Nauta town - Village visit - Birthplace of the Amazon

This morning, we will visit the local fresh market with your guides who can identify the day's catch by the fishermen of Amazonia and the region's exotic fruits. In the afternoon, we witness one of the great spectacles of the Southern Hemisphere, the birthplace of the Amazon River. Tonight you will meet the new passengers who have signed on for the four-night trip, as we start our journey together along the Marañon River.

Day 5

Yanallpa river - Dorado river

By skiff, we explore the black waters of the Yanallpa River, disembarking to walk deep into the Amazonian rain forest. Later, we board the skiffs again to cruise along the El Dorado River for a dusk excursion in search of exotic nocturnal wildlife.

Day 6

Pacaya river - Ucayali river - Tapiche river

The rewards of our early start today are plentiful, including a breakfast picnic accompanied by jungle symphony and fishing along the black waters of the Pacaya River. After lunch, we venture out by skiffs on the Ucayali River alongside the banana boats transporting their jungle products to the port of Requena, keeping an eye out for pink river dolphins.

Day 7

Clavero or Yarapa river - Amazon river

Choose to go jungle walking, canoeing, kayaking or swimming on the black water Yarapa or Clavero River in the morning. Visit a remote Amazonia village in the afternoon. This evening before dinner, we will gather to introduce you to some of the crewmembers whom you may not have met, working "behind the scenes" to ensure your countless exceptional experiences aboard the ARIA AMAZON.

Day 8

Arrival in Iquitos - Manatee Rescue Center - Transfer to the airport

At the Bellavista Nanay morning market along the Nanay River, sample exotic snacks from the Peruvian Amazon like 'Suri', Amazon caterpillars that are considered especially appetizing. Return to the ARIA for breakfast and to pack up. Before saying goodbye, we will make one last truly memorable stop at the Manatee Rescue Center, a very special kind of animal orphanage for Amazonian manatees. We will also visit San Juan craft market on route to the airport. Lunch or box lunch will be provided, depending on the exact departure flight time, which may vary. Other local activities may be included as well, according to the flight schedule.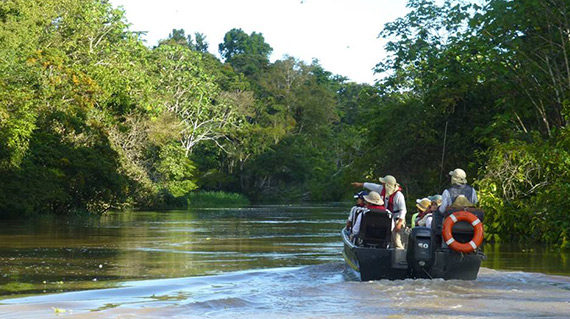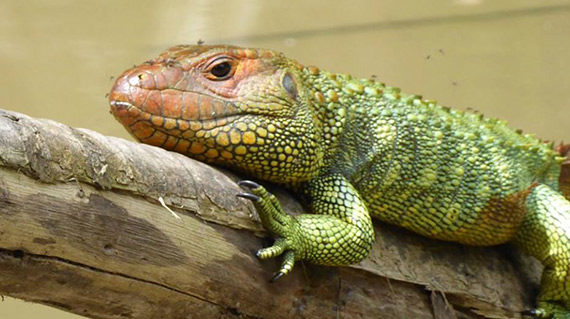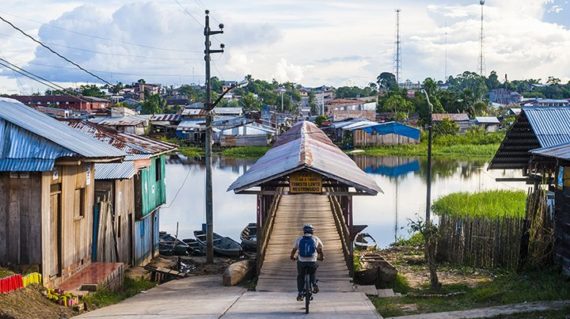 Technical specifications
Year Built: 2010
Port of Embarkation: Iquitos, Peru
Vessel's Registry: Peru
Type of Vessel: River Expedition Vessel
Length: 147 feet / 45 meters
Beam: 29.5 feet / 9 meters
Draft: 5 feet / 1.5 meters
Gross Tonnage: 500 tons
Cruising Speed: 12 knots
Electricity: 220 volts
Engines: 2 Cummins 400 HP Marine Engines
Generators: 2 x 135 KVA Cummins (encapsulated for noise reduction)
Water: 9,000-liter water treatment plant
Safety on board the Aria Amazon: Radio communication with separate battery pack; satellite phone; life jackets,  fire extinguishers and smoke detectors in each cabin; flares and signals; automatic defibrillator on board.
Launch Boats Used for Shore Excursions from the Aria Amazon: Four auxiliary aluminum launch boats equipped with four-stroke low emission engines; constant radio communication with the main vessel. Each boat has a capacity of 8 passengers.
Aria Amazon Crew: 27, including a cruise director, paramedic and 4 English speaking naturalist guides.
Aria Amazon Capacity: Up to 32 passengers with private facilities (Additional accommodation for one child in each cabin)
Accommodations and Cabins: 16 suites (8 Design Suites measuring 23.2 square meters /250 square feet on the first deck and 8 Design Suites measuring 23.2 square meters / 250 square feet on the second deck). All outside-facing with floor to ceiling panoramic windows. All air conditioned with en suite sitting areas. Four interconnecting suites for families.
Unique Cabin Features and Amenities: Amazon river facing panoramic windows; air conditioning; twin beds that convert to a California king-sized bed; en suite sitting area, bathroom with shower, toilet, sink, cabinet, hairdryer, hot water around the clock and a basket of toiletries; internal communications system.
Common Living and Social Areas: Indoor Bar; Lounge; Dining Room; Outside Lounge; Outdoor Jacuzzi; Exercise Room; Massage Room; Observation Deck; Boutique
Deck Plan