The Chalalan Ecolodge  stands on the shore of the magnificent Chalalán Lagoon and combines elegance and comfort using local materials to respect the traditional building styles of our community, San José de Uchupiamonas.
Chalalan Lodge
The design and distribution of the different rooms making up our Ecolodge were planned down to the very last detail by us Josesanos, taking advantage of our knowledge of what the jungle provides. The walls are made from the Copa Palm (Iriartea Deltoidea) and covered with matting, the roofs are woven with asaí palm leaves (Geonoma Deversa) and the floors made of fine hardwood make the CHALALÁN Ecolodge one of the most luxurious places to stay in this part of the world.
How do I get Chalalán?
Chalalán is located in the Bolivian Amazon in the heart of the Madidi National Park, in the Tuíchi valley on the shores of the magnificent "Chalalán" Lake. The main entry point to the Chalalán Ecolodge is the town of Rurrenabaque, which can be accessed by air or land from the city of La Paz. By air (International Airport El Alto) the trip takes approximately 50 minutes, by land around 18 hours. From Rurrenabaque to Chalalán, the Ecolodge is accessed by boat up the rivers Beni and Tuíchi by comfortable motorboat – 5½ hours
Activities
Guided nature hikes, birdwatching, canoe trips, swimming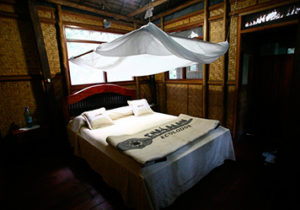 Is this what you are looking for?