Though the Amazon River has been known throughout the world for hundreds of years, the exact location of its source, and therefore its exact length, was a hotly disputed subject for many years.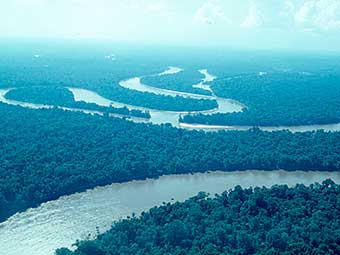 Scientists and geographers had a good idea of the general location of the source high up in the Peruvian Andes. However, pinpointing the exact peak from which the river flowed proved more difficult to confirm.
In fact, the source of the mighty Amazon River was only definitively established in the year 2000 by a five-nation National Geographic expedition, using the very latest in global positioning technology and navigation equipment.
The exact source was found to be on the slopes of Nevado Mismi, a 5,597-metre mountain in southern Peru.
From this tiny trickle of crystal clear water flowing down a shear rock face, the river flows right through the Amazon Peru and Brazil with tributaries crisscrossing the breadth of the continent.
By the time the river reach the Atlantic Ocean, it has become the largest in the world, with a volume bigger than the next seven largest rivers combined.
Depending on the definition of where the river ends and the sea begins, the Amazon could also be the longest river in the world, with some scientists placing it around 65 miles longer than the Nile.
If you want to visit the source of the Amazon, you'll need a good pair of walking boots and an even better map, though it's probably best to travel with an organised tour to be on the safe side.
Further down stream the Amazon Peru is a lot easier to access with regular Amazon cruises taking passengers on regular trips deep into the heart of the jungle and through its waterways.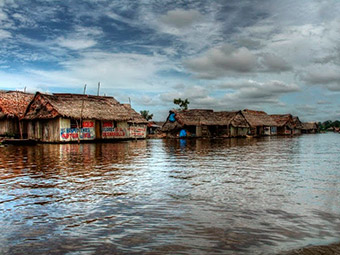 The best place from which to explore the Amazon Peru is the city of Iquitos, from there visitors can join a variety of cruises and expeditions taking in the river, the local wildlife and the unique environment they have created.
When travelling on the mighty Amazon River, especially at its widest points or when the jungle is flooded, it can be hard to imagine that this huge waterway springs from the side of a faraway mountain, high up in the Andes.
From there, flowing through the Amazon Peru and Brazil, the river brings life to one of the most diverse biospheres on earth and helps to create one of the world's most spectacular holiday destinations.