Knowing what to pack for a holiday can be tough at the best of times, but when you're heading into one of the most diverse and extraordinary places on the face of the earth, deciding what stays and what goes can be almost impossible.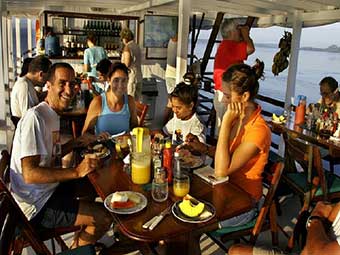 The main thing to remember when joining any of the Amazon river trips that operate in the region is comfort. Temperatures in the dry season (July to November) can easily hit 40˚C, so if your clothes are too tight or too heavy you're going to get uncomfortable pretty quickly.
Try to pack clothes made from light, quick drying fabrics like cotton or specialist travel materials. Clothes that allow your skin to breathe will make you a lot more comfortable in warm, humid weather, making your experience of Amazon River trips even more enjoyable.
In general, shorts and T-shirts are fine for the daytime on board your boat, however long sleeved tops and trousers may be more comfortable in the evenings and are much better for protecting your skin from the sun and insects during excursions.
Amazon clipper fleet have air-conditioned communal areas, you may also want to pack a light jumper or jacket for when you're inside.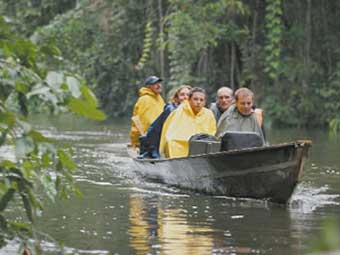 As the name would suggest, the Amazon Rainforest is prone to the odd downpour so a light rain jacket is likely to come in very handy especially during the wet season.
Comfortable walking shoes are a must for any Amazon river trips and should be worn on all excursions and activities. However, it's important to wear your shoes in before your trip to the Amazon in order to avoid any blisters or sores during your time in the jungle.
As the Amazon is a fairly extreme environment, most passengers on Amazon river trips prioritise comfort and practicality over anything else, leading to a very relaxed and informal atmosphere on board.
Some people may want to pack a few smarter items for the evenings and for city stays at the beginning or end of your trip. However, you're likely to find that being comfortable is by far the most important factor during your Amazon river cruise.
With the humidity often extremely high and the mercury regularly topping 30˚C, packing lightweight, quick drying and comfortable materials is your priority. By packing the right clothes, shoes and accessories, you can ensure that you enjoy every single moment of your Amazon river cruise.