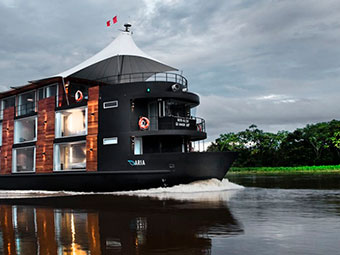 Covering an area of 5.5 million square kilometers, straddling nine countries and incorporating some of the most isolated and remote parts of the planet, the Amazon rainforest is pretty big by anyone's standards.
On top of its vast size, the Amazon has a huge array of waterways, natural reserves and other attractions, making it a fantastic destination for anyone with a lust for adventure and love of the natural world.
However, this can make it difficult to choose between the many Amazon river trips on offer, with each offering its own unique charms and attractions. To help you decide which of the Amazon cruises you're going to choose, here's some information on the most popular cruise routes in the jungle.
Peru
As virtually all Amazon river trips in Peru depart from Iquitos, this is most likely where your jungle journey will also begin.
The most popular routes departing from the rainforest city last from four to seven days and take in fantastic nearby attractions like the Pacaya Samiria Reserve – a network of 85 lakes home to a wealth of aquatic and jungle life – vibrant indigenous communities and the border town of Tabatinga in Brazil from where passengers can continue to Manaus.
Brazil
Home to the majority of the mighty waterway, AmazonBrazilian Amazon river trips in Brazil have a fantastic choice of routes and destinations and take in both the Amazon and the Negro Rivers.
A popular destination in the Brazilian Amazon is the junction of the two rivers, where the sharp contrast between dark waters of the Negro and the brown waters of the Amazon can be clearly seen.
Many of the Amazon river trips departing from both Manaus and Belem also include the option for joining excursions to traditional river communities and less accessible parts of the jungle.
Ecuador
The best place for exploring the Amazon in Ecuador is in the stunning Napo Basin, where boats can navigate into the jungle via the Napo and Aguarico Rivers.
With the best cruises in the region based around the Limoncocha Wildlife Reserve and Yasuni National Park, Amazon river trips in Ecuador offer passengers the chance to get close to nature and experience some of the most unspoiled part of the jungle.
With a wealth of natural attractions, vibrant cultures and stunning scenery, the entire Amazon Jungle is a fantastic cruising destination and no matter which route you choose, you're guaranteed to have the holiday of a lifetime.