So you did not explore the Amazon basin on the Aqua Nera maiden voyage?
If you were not one of the lucky 37 guests who boarded the new river ship Aqua Nera, July 3, 2021, do not stress about this missed opportunity, there will be plenty of sailings in 2021 and onwards. Aqua Nera was built over the course 2020. It culminated in an incredible 12,350-nautical mile journey around the globe, from Ho Chi Minh City, Vietnam, to her final destination, Iquitos in Peru.
This is only the beginning. The luxury 20-suite vessel set a new standard in design on the Amazon River. It was finally possible to embark on her first voyage, exploring the deepest parts of the Peruvian Amazon's biodiverse forest over three, four and seven nights led by Francesco Galli Zugaro, Aqua Expeditions CEO.
Aqua Nera's innovative concept was first presented to guests by Noor Studio, a Vietnam-based architect. The ship tells a tale of contrasts, drawing inspiration from both the Amazon rainforest's unique nature and elements of Peruvian culture.
Take a virtual tour of the new Aqua Nera here.
Dark Emperor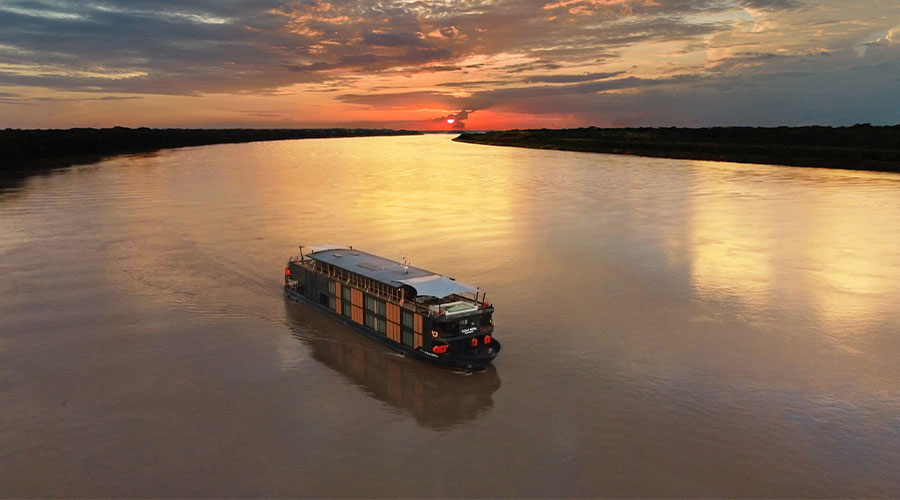 Aqua Nera's design tells a story about embracing the beauty of the past and present, colonial, contemporary, color, and darkness. Studio Noor created a dark, sensorial environment that allowed each texture and element to be incorporated into a cohesive story.
This includes the mastery of space – the feeling of moving through dark or light spaces is transposed via the ambiances created in smaller and larger rooms. This allows for a variety of experiences, which is an important aspect of the design.
This progression is best illustrated in the lobby lounge. The lobby lounge features a seven-meter long slow window that frames the beautiful rainforest landscape outside. It then brings the focus back inside to the dramatic cantilevered sculpture staircase that leads guests to the observation deck. Guests are guided on an immersive journey of light, dark and transitions from the screening room and games room to the main lounge, bar, and outside to the sundeck and plunge pool.
It's not just the combination of light and shade, but also the idea of bringing the outside in, even if it is subtle. This idea is brought to life by the dining room's daring ceiling louvers. The ceiling also features slats, which accentuate the ceiling height while bringing a sense of unity with the outside.
David Hodkinson is Studio Noor's Design Director. He explains that guests step out of the vessel into a vibrant environment with rich fauna and flora. We want guests to feel a bit of comfort and calm when they return to their vessel. However, we also want to keep the connection to the environment so that there are touches of the outside.
Inspiration from Nature
The interiors are inspired by the Peruvian Amazon's black water lagoons, giving Aqua Nera its name. They feature dark-stained wood elements with Peruvian accents. The custom-made bathroom tiles that evoke Shipibo tribes' Amazon prints, or the soft furnishings that evoke motifs from the turn of the century rubber boom era, are all examples of the Amazonian culture and traditions.
Guests will feel a strong connection with this Latin American design through its handicrafts as well as contemporary design. Hodkinson says, "It's something that's very current but also very timeless." Aqua Nera's design inspiration came largely from the desire to create a feeling of place and connect with our guests through art, colors and other little touches.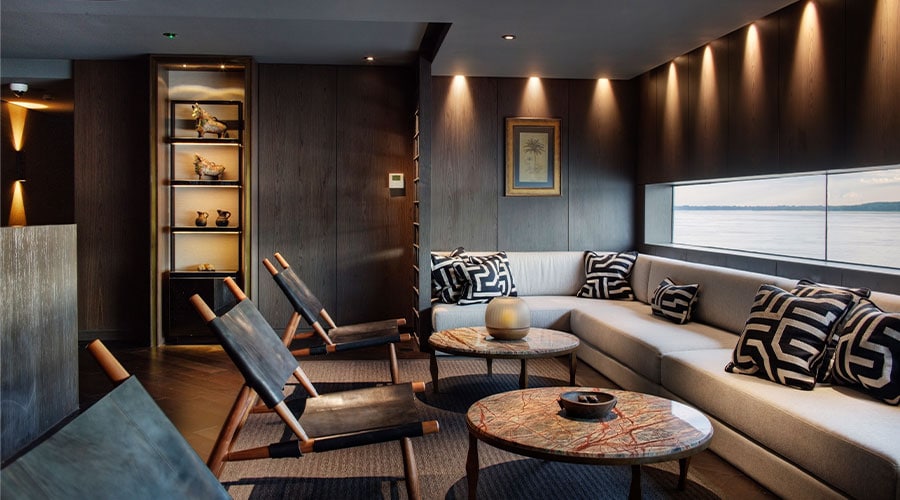 Aqua Nera offers a range of luxurious facilities that guests can enjoy. These include a river-facing gym, observation deck, private lounge with movie screening capabilities, spa, and an outdoor pool with panoramic views of the rainforest.
Aqua Nera's unique design and decor is what truly makes her stand out. Aqua Nera's indoor lounge combines classic and modern elements with a touch more drama. This area is a focal point for relaxation and social activities thanks to its exquisite attention to detail.
Take Care of Every Detail
Birgit Galli Zugaro (Director of Aqua Expeditions), who was a visionary in the design of Aqua Nera, stated that guests should feel like they are visiting our home. No detail is overlooked, including the custom-made stone composite sinks and showers, as well as the use of locally sourced fabrics and wall treatments.
The ship's design language incorporates local elements. Galli Zugaro says, "It was important that we embody the extraordinary sense of place as well as our ability push boundaries and redefine luxury cruises on the Amazon." In the iconography of the ship's interior, guests will see indigenous textile patterns from Shipibo/Conibo tribes, which are woven into the soft furnishings and bathrooms. These distinctive geometric motifs feature patterns that represent their cosmology and the ancient rituals and techniques they used to interpret the world. Aqua Nera interprets a tile-specific design to bring a new perspective on the exotic locale.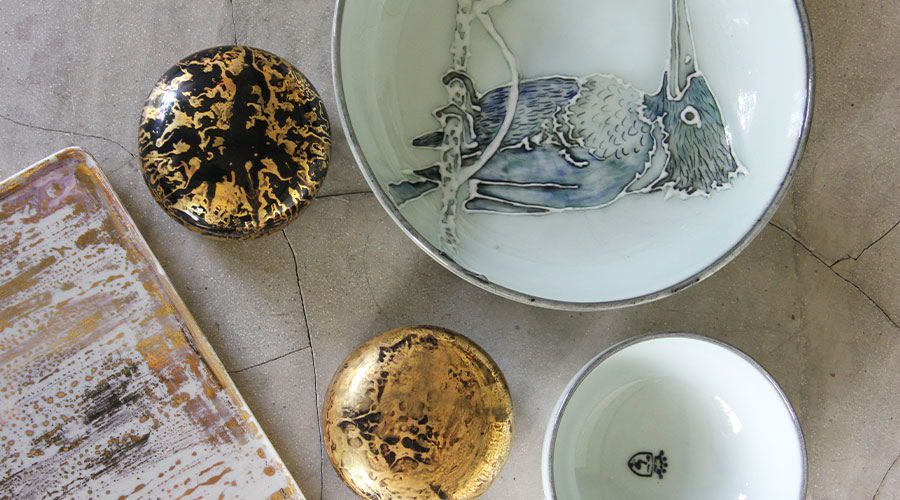 Tiles also highlight the Portuguese influence of the Rubber Boom era and bring in the importance of European history, culture, and art of Iquitos. In the main indoor lounge, the bar is dedicated to "The Iron House of Iquitos", a symbol of colonial wrought-iron architecture. The Iron House, which was built with Parisian imports at the end of the nineteenth-century, is still a symbol of Historic-Cultural Heritage of the Nation in Peru.
Aqua Nera pays tribute to her sister ships by incorporating area rugs from recycled fishing nets at Maison & Object, Bangkok-sourced Jim Thompson animal- and plant-inspired fabrics to adorn suites and public spaces. Also, Gaya Ceramic, Bali, with Galli Zugaro, has created gold leaf plateware inspired by Amazonia. The Aqua Expeditions fleet is familiar to guests thanks to the comfort and continuity that they feel, as well as the delight in the details.
It's Sustainable Since It's Inception
Aqua Expeditions is a firm believer in sustainable tourism and expedition cruising. Aqua Nera's construction and design are consistent with this focus. It is not the first time that the company has used efficient energy sources or recycled innovative materials on the vessel, but it is a significant step forward in terms of its scope and size.
Francesco Galli Zugaro, founder, explains that "With the introduction in Peruvian Amazon of a second expedition ship, we are accompanied by an even greater commitment to the Amazon River ecosystem." Aqua Nera's design incorporates elements such as large solar panels and sustainably sourced wood. This ensures that we use materials that not only look great but also function well. It is a continuation to our brand philosophy.
It is equipped with 25m2 of German-technology solar panels that can power the entire Aqua Nera's top deck. The decking, exterior flooring, cladding and handrails are made of recycled materials. This material is approximately 60% rice husk. It is an agricultural waste product and can be used as a sustainable alternative for wood and PVC. It is also durable, versatile and UV-resistant.
Aqua Nera also boasts environmentally-friendly indoor flooring, with woven vinyl floors for the cabin bathrooms made from recycled materials that are free from hazardous chemicals low in fossil content manufacture using 100 percent renewable energy. The Design Suites and social spaces have eco-friendly premium quality carpets made from 100% recycled PET plastic bottles, pre-consumer fibers and post-consumer waste.
Aqua Expeditions, together with responsible operations and wildlife conservation and community engagement projects are its key drivers for sustainable development in travel. Aqua Nera prioritizes the social and ecological impacts of operating in a culturally rich, pristine natural destination like the Amazon.
Aqua Nera rates start at USD 4,125 per head and include all meals and beverages (nonalcoholic, premium wines and national beer), all excursions and transfers to/from the vessel, laundry service and Pacaya Samiria National Reserve entry fee. Private hire is possible for Aqua Nera starting at USD 153,000 per 40 guests.