With its white sandy beaches, lush vegetation and crystal clear waters, the section of the Tapajos River that flows past the city of Santarém in Brazil's Pará state looks more like the Caribbean than the Amazon and, as a result, makes a fantastic pit stop during your luxury Amazon cruise.
Stretching for 1,200 miles from its source at the junction of the Juruena and Teles Pires rivers to the Amazon, the Tapajos River accounts for around 6% of the water in the Amazon Basin, making it the fifth largest contributor in the river system.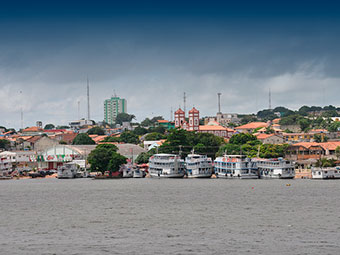 Though for most of its length the river is wild, fast flowing and un-navigable, the Tapajos widens as it flows towards the Amazon and for the final 100 miles of its journey is between four and nine miles wide.
At the point where the Tapajos meets the Amazon, the river has created a vast series of idyllic beaches that, when added all together, total around 62 miles in length.
Unsurprisingly, this stunning beach network has become a major attraction in the region and a must see on any luxury Amazon expeditions by riverboat.
One of the most famous river beaches in the Tapajos is in the village of Alter do Chão. A clean white sandy beach with a spectacular setting, it has been voted one of the best beaches in Brazil and one of the most beautiful fresh water beaches in the world.
Close to Alter do Chão you'll find a host of other spectacular beaches, many almost completely deserted, that are well worth exploring during your luxury Amazon tours by boat.Amazon Expeditions
Whether you're looking for a unique beach break, the opportunity to get close to nature or the chance to discover local food and culture during your Amazon expedition cruises Brazil has it all – with mile upon mile of idyllic beaches within easy reach of pristine rainforest and traditional communities.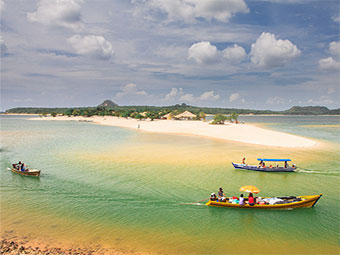 This abundance of attractions makes it easy to pack a huge amount of day trips, activities and eye-opening encounters in to your luxury Amazon expeditions, giving you a fantastic experience and the holiday of a lifetime.
Though the Tapajos River is known as the Caribbean of the Amazon, its unique setting, vibrant communities and wealth of nature actually make it somewhat more spectacular, so if you're planning a trip to the region, make sure you stop off at the rainforest's very own tropical paradise.