Though you're guaranteed to remember your trip to the spectacular Amazon rainforest forever, having a few beautifully shot photos will make your memories all the more vibrant. Plus, a few great images will let you show your friends and family exactly what they missed.
However, unlike the beaches, mountains or cities you're used to snapping, the Amazon is a completely unique environment and as such, has its very own set of photographic challenges.
Though getting that perfect shot may not be easy, with a bit of relevant Amazon rainforest info and a lot of patience, you should be able to get a few fantastic images for your holiday album.
Equipment
The equipment you choose to take into the jungle is entirely up to you. You don't necessarily need an expensive camera to get great shots. However, a camera that lets you adjust the light settings and a tripod to go with it are a must.
No matter what you're taking to the rainforest, it's very important that you get to know your equipment before you leave. The wild inhabitants of the Amazon won't wait for you to change lenses or alter your settings, so make sure you've taken your camera out for a spin before you head to the jungle.
Light
If you've read up on a bit of Amazon rainforest info, you'll know that conditions in the jungle can change quickly. This can make getting that perfect shot a little tricky.
Contrary to what you might think, the best time to shoot is when it's misty or overcast. That way the light won't change so quickly and it will be easier to get the exposure spot on.
With the number of trees and other obstacles in the jungle, it's a good idea to avoid using flash where possible. To get good shots try lowering your aperture to f2.8 or f3.5 to let in as much light as possible.
Pick a subject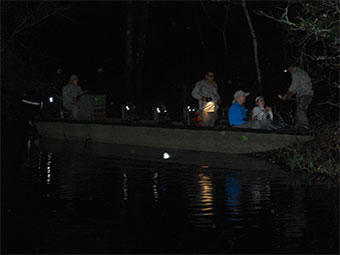 Equiment – LightInstead of snapping photos of everything you see, try to focus on one creature or scene that especially catches your eye. Take a bit of time to frame your picture up properly and think about your shot. When you finally release the shutter, you should have an image to be proud of.
If there is a particular jungle inhabitant you want to capture, check any available Amazon rainforest info to discover where in the jungle it lives. Specially organised custom trips can then take you straight to your subject's habitat, giving you the best chance of getting that winning shot.
Though photographing under the jungle canopy does have its challenges, with a bit of practice, perseverance and luck you'll be able to capture amazing images of your time in the Amazon, allowing you to remember your once in a lifetime trip forever.