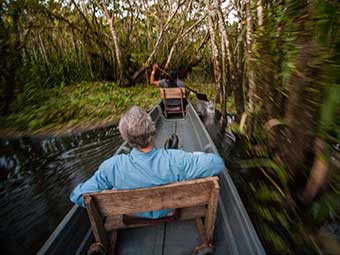 Feeling comfortable, safe and cared-for is an important part of any holiday, and is never more important than when venturing into one of the most remote and wild places on earth.
Knowing exactly what to expect from your luxury Amazon cruise will help you choose what to pack, give you an idea of what to expect and whether or not you feel you're getting value for money from your jungle adventure.
Though a range of luxury cruises and custom trips are available across the region, these are a few touches that you can expect from almost every luxury Amazon expedition cruises.
Air conditioning
Though you may think that air conditioning is a fairly basic requirement in a region where the temperature can reach 40˚C, some more basic boats don't necessarily come with air conditioned cabins or communal areas.
On a luxury Amazon expedition cruises, however, you can guarantee a comfortable temperature throughout the ship, allowing passengers to cool off, relax and enjoy their surroundings.
Great views
Though the view from the deck may be the same whatever the standard of your accommodation, passengers on a luxury Amazon expeditions generally have the advantage of a great view from their cabin as well.
Panoramic windows offer uninterrupted views of the passing jungle, giving those on board the chance to experience the life of the rainforest whether they're enjoying a cocktail on deck or relaxing in their private room.
Expert guides
Having an expert naturalist on hand to answer any questions that you might have is a great advantage during an Amazon tours by boat and can greatly enhance your experience of the jungle and its inhabitants.
Most luxury cruises will have at least three naturalists on board, ensuring there is always someone there to answer any query you might have.
Large cabins
There's nothing like having a bit of space to make you feel more comfortable and the generous cabins on a luxury Amazon expeditions by riverboat will give you just that.
As well as space, most luxury cabins come complete with en-suite bathrooms, sumptuous bedding and even specially commissioned art pieces, all designed to give passengers the very best Amazon experience possible.
Great food
The food on board luxury cruises in the Amazon is not to be sniffed at with many boats employing top chefs and priding themselves on their innovative and exciting menus.
Most luxury cruises will offer a range of local and international dishes, providing passengers with a huge amount of choice and the chance to sample unique jungle delicacies.
On a good quality luxury cruise, all of your needs will be more than taken care of, leaving you free to enjoy the focus of your trip, the mighty Amazon River and the colossal jungle that encompasses it.