With such staggering scenery, abundant wildlife and fascinating culture, it's no wonder that the Amazon is one of the world's most impressive and spectacular holiday destinations.
If you're lucky enough to be planning a trip to the Amazon, the best way to explore the region properly is either to join an Amazon River cruise or to stay in a specialist jungle lodge. Both offer guests a unique glimpse into jungle life and an unforgettable experience, so which should you choose?
Amazon cruises and lodge-based trips offer guests a huge amount of variety. Passengers on board a cruise will see long stretches of the river system; see how the river changes as it flows towards the Atlantic; and get the chance to experience the mightiest waterway in the world as it crosses the continent.
In the Brazilian part of the rainforest Amazon cruises take you deep into the jungle. Giving you a closer look at the traditional settlements along the riverbanks and the river islands that provide a haven for wildlife.
You'll see the clearly defined confluences of the Amazon and its tributaries, the most striking of which is the union between the black waters of the mighty Rio Negro and the brown waters of the Amazon.
There are a number of itineraries visitors can choose from, each of which offers its own unique perspective of the jungle. Jungle lodges on the other hand are perfect for those who want to experience the rainforest at all hours of the day and night and to really get a feel for the life of the jungle.
While staying in a lodge you'll have the chance to take part in excursions deeper into the jungle and activities like swimming, hiking and even paddling native canoes.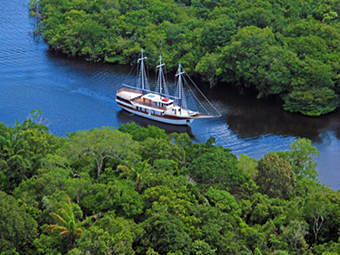 If you're looking for an action packed trip a river cruise in the Brazilian Amazon has a lot to offer. This vast region incorporates some of the most pristine and untouched parts of the Amazon River, making it ideal for active Amazon cruises.
Activities like hiking, piranha fishing, bird watching and canoeing are all available, giving guests plenty of opportunities to explore the river, the jungle and the local culture.
When visitors come to the rainforest, many are worried about comfort, however both lodge-based tours and Amazon river cruises offer the highest standard accommodation, giving you the chance to live in luxury in the heart of the jungle.
The rainforest is truly one of the world's most unique regions and however you choose to explore it, you're guaranteed an unforgettable holiday. So, whether you decide to stay in a jungle lodge or on a luxury cruise ship, make sure you make the Amazon your next 'must see' holiday destination.