Once you've decided which part of the vast Amazon region to visit, your next task is to choose which vessel and which itinerary suits you best.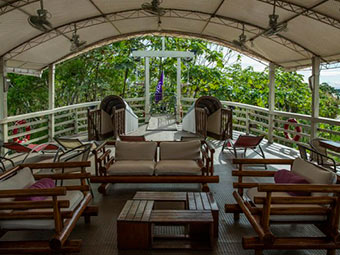 In Peru, there's a wide range of specialist jungle ships cruising the Amazon. The newest, and arguably one the most beautiful of which is the 35-metre long Amatista.
The ship itself can accommodate up to 31 passengers in fifteen cabins. All cabins are finished to the highest standard and all come with en suite bathrooms and breathtaking views of the Amazon River.
During your Amazon expedition you'll be able to experience the river in all of its moods and guises and have the chance to join excursions that take you even deeper into the jungle and its flooded waterways.
In order to help you make the most of this once in a lifetime Amazon river trip, passengers on board the Amatista get stuck in straight away with an afternoon canoe trip to the Laguna Encantada in the Amazon Natural Park.
During the trip you'll be able to spot some of the unique species that make their home in this part of the rainforest, including monkeys, iguanas and exotic birds.
As with all of our high quality Amazon river cruises, expert naturalists accompany the passengers as they travel through the jungle, providing invaluable insight into the life of the Amazon and the creatures that live there.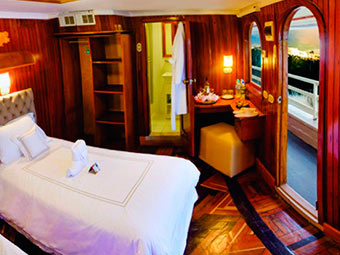 When you're not out exploring the jungle you can spend time relaxing on the ship's observation deck, buff up on your rainforest knowledge in the on board reading room or enjoy a freshly made cocktail in the Amatista's very own bar.
One of the highlights of cruising the Amazon on the Amatista is the Ceiba Trail hike. A spectacular walkway high up in the jungle canopy that gives visitors an up close look at the rainforest habitat and the chance to spot some of the Amazon's rarest creatures.
An Amazon expedition cruise on the Amatista also gives passengers the chance to visit the beautiful Pacaya Samiria National Reserve, one of the largest protected areas in Peru.
As you explore the reserve by canoe, keep your eyes peeled for the spider monkeys, giant river otters, three toe sloths and pink dolphins that have found refuge in this beautiful part of the rainforest.
A cruise on board the Amatista is the perfect way to explore the Peruvian Amazon and everything that it has to offer. Providing the perfect mix of luxury, adventure and exploration as well as a holiday that you'll never forget.