The best way to see the Ecuadorian Amazon is undoubtedly by boat, with the labyrinth of waterways – many of which are tributaries to the mighty Amazon River – forming a natural path into the forest.
It's in these waterways you'll find the massive Amazon Anaconda – fabled for its size and appetite.  Well there's a new visitor to these waters that's making a big impression – the Anakonda cruise ship.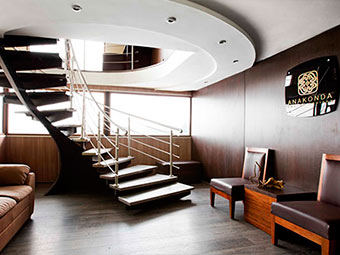 Designed with comfort in mind, the Anakonda is the only luxury ship cruising the Ecuadorian Amazon. So if you like the idea of seeing the wild and unexplored jungle from the decks of a five star, boutique hotel, this is definitely the Amazon jungle cruise for you.
All of the suites on board the Anakonda – of which there are 18 in total – are outside facing and are fully equipped with air conditioning, inside seating areas, en-suite bathrooms and panoramic windows offering uninterrupted views of the rainforest.
The Anakonda's 40 passengers will be assisted throughout their Amazon jungle cruise by a team of 25 crew, four of whom are English-speaking naturalist guides and four of whom are native guides.
This in-depth knowledge is a huge advantage as you begin to discover the hidden world of the jungle, and will help you to return home with some great Amazon facts of your own.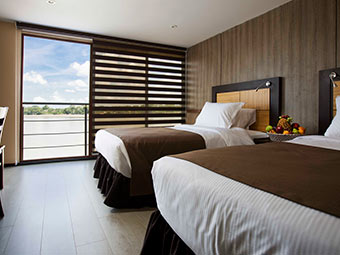 Unlike the ships used on some other Amazon cruises, the Anakonda has plenty of outside space where guests can relax and soak up the atmosphere of the jungle – there's even an outside lounge with al fresco dining facilities for a truly unique rainforest experience.
Full of adventure, excitement and discovery, the Amazon Rainforest is one of the world's last true frontiers and any visit to the region is guaranteed to be truly eye opening.
There's no doubt that any trip to the Amazon jungle will be a fantastic experience and will be something that leaves you with memories you'll treasure for ever. So see the Amazon in the style that it deserves with a luxury cruise on the Anakonda and give yourself a little slice of the good life at the same time!